The Florida Beaches - Living in Paradise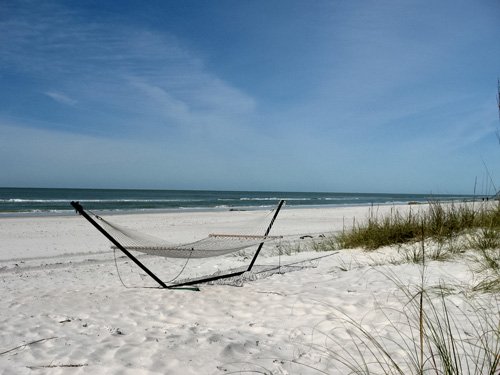 Florida beaches are about as close to Paradise as you can get. The beach life is one to truly treasure. I want your beach vacation or Florida beach wedding to be the best it can be.
We show you the best Florida beaches to create memorable experiences and relax worry free. Life can be easy, simple, and fun in Paradise.
Beach Paradise...when you hear those words many of us think of soft sugary white sand, the whisper of breeze off the ocean, napping in the sun after only a few pages of a good book, and finding unique little beach bars to eat at or just unwind. 
It doesn't matter if you are single, married, ready to retire or just vacationing here...the beach has something separate and positive to offer everyone. Don't be surprised if you meet others with your same outlook.
I want to provide you with accurate information on the best beaches in the beautiful State of Florida that are uncrowded, how to save on expenses for a beach vacation or a beach wedding, out of the ordinary places to eat (or have a cold one), and area nightlife.
It is rare to find another place where you can spend the majority of your days in an Aloha shirt, shorts/long Jams, and flip-flops. The Florida beach culture is laid-back and accepting. 
A Florida beaches vacation can turn into permanent move back to Paradise.
Most women enjoy being able walk, shop, look for shells, and doze on the shoreline in a sleeveless top and shorts over a swimsuit/bikini. A visor and sunglasses are about the only accessories they really need for their daily outfit.
If you are thinking of a beach wedding, you will be pleased to know you can save $1000 of dollars on expenses...and get married in a cute sun dress.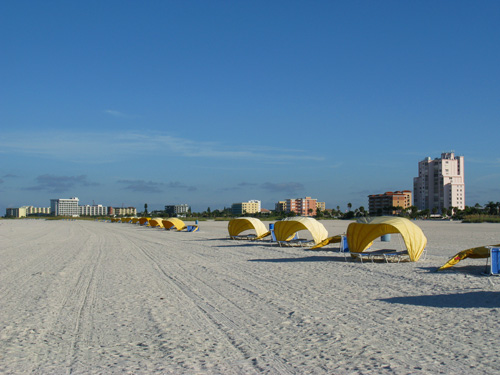 To me, beach mornings provide the perfect therapeutic start of the day. 
The surf rolling in is almost noiseless at sunrise, the breeze is consistent yet mild, dolphins feed and surface as they play close to shore, and traffic sounds are a world away. 
The prelude to another beautiful day in Paradise. It really doesn't get much better.
For some though, it's the call of a secluded area to read, nap, talk with a friend, or just watch the waves roll in as they deepen their tan in the afternoon. Sleeping in until 10, then later wandering over to the beach with a bottle of sunscreen and a good book provide a natural true nourishment for the noise that hammers at our spirit in the city.
The Florida Beach Lifestyle Can Be Yours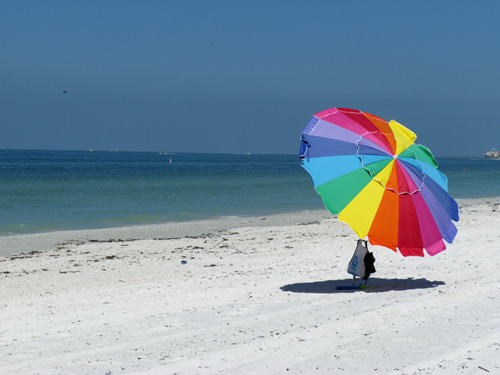 A daily regimen of beach life provides the perfect opportunity to experience being in the moment.
During a family beach vacation, you can enjoy both active togetherness and calming alone time, all in one environment. Clean Florida beaches offer plenty of space and opportunity to do everything from renting huge aquatic toys, playing catch, flying a kite, watching seagulls and pelicans...or just swimming in the ocean. 
(Kids love to walk on the beach just as much as adults and all of the activity throughout the day makes for restful sleep at night.)
Still others enjoy finding new spots to dine outdoors on fresh seafood or relax with a cold drink and the sounds of others having fun at a popular tiki bar. Florida beaches have a blend of elegant dining places and truly unique beach bars. 
One night you can dine in an upscale resort with a rotating penthouse restaurant...while the next evening you can sit on the deck of a beach bar and listen to a hundred random individuals participate in a huge tropical "drum jam" out by the Gulf.
Living The Florida Beach Lifestyle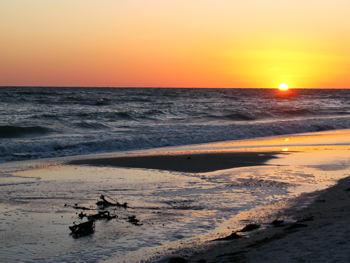 Just taking a restful walk together at sunset can be renewing. 
The beach is peaceful, with only the infrequent sounds of seagulls above a background of quiet waves. 
Cares tend to melt away and conversations can be more meaningful. 
This is why beach weddings seem more romantic and couples feel closer.
Florida beaches urge you toward a lifestyle that is easy, simple, and unhurried. 
The ocean calms by the character of its continuity. Come join us. Meet new people. Give yourself a feeling a freedom. 
The Florida Beach Blog will update all additions and changes to the florida-beach-lifestyle.com Web site. Florida beach vacations, beach skincare, beach fitness, and natural fat loss.
Beach skincare is practiced arduously by the women in our group. A beautiful suntan is enhanced with exercise, diet, and natural homemade skincare products.
Finding the best Florida beach for your Florida beach vacation should not be a hit-or-miss thing. The Gulf Coast tops our recommendation for the best Florida beaches.
Looking for a peaceful and quiet Florida beach vacation? To me, the Florida Gulf Beaches west of St. Petersburg, offer the best laid back beaches and lifestyle here in Paradise.
Retire in Florida and live the quiet and laid back Florida beach lifestyle. Retirement in Florida is like coming home to Paradise.
Madeira Beach FL is a sleepy little Gulf Coast town west of St. Petersburg FL. Home of Johns Pass Village, it has beautiful white sand and some good beach bars.
Treasure Island FL is ideal for your vacation on the Florida beaches. Many brides chose the Sunset Beach Pavilion on Treasure Island for their Florida beach wedding.
St Pete Beach FL. If you're looking for a Florida beach community that takes pride in its laid-back
Although Pass-A-Grille Beach is officially part of St Pete Beach FL, it is unique as an undeveloped beach community.
Johns Pass Village is the main shopping area between Madeira Beach FL and Treasure Island FL.
Indian Rocks Beach Fl is a little Gulf Coast community with a wide sandy Florida beach and lots of free parking. Indian Rocks Beach FL is one of the last hold outs for free parking.
Clearwater Beach Florida is known for it's fine white sand, clear Gulf water, and meeting new people. Let's be realistic, this is THE Spring Break destination on the Gulf Coast.
A Florida beach vacation on the Florida Gulf Coast can be fun, romantic, cheap when you plan right.
The Florida stingray season runs approximately between April and October on Florida beaches. You need to be alert and do the Stingray Shuffle.
St Petersburg FL is an active, but laid back city of beauty and magical experiences. It has retained the romance of Old Florida charm within a thriving cosmopolitan community. It's easily Florida's m
It seems like once people visit Florida, they want to know if they can find quality Florida beach real estate at a discount price.
Finding Florida foreclosures is one thing, being able to get through the short sales buying process is another. Patience and research are your two most valuable tools.
Dolphin facts to help you understand beautiful Florida dolphins. Bottlenose dolphins in Florida provide daily entertainment for visitors to the Gulf Beaches.
Accurate Florida shark facts will reduce your fears of a shark attack on the Florida beaches.
Friends continually ask me about Florida alligator attacks. The Florida alligator is regularly in the news because they turn up everywhere close to freshwater. You can avoid alligator attacks.
You can have a romantic Florida beach wedding on a budget. Solid planning for a cheap beach wedding helps keep getting married inexpensive.
The great thing about a beach wedding dress is that it can be a beautiful cheap beach wedding dress. Dresses for a beach wedding can be casual, cute, and reasonably priced.
You can have a fit beach body with healthy eating habits and consistent exercise. You will look and feel better if you lose belly fat and build lean muscle to burn calories more efficiently.
Get the best Disney World tips to make your Disney World vacation great. The Florida Gulf beaches are perfect for a visit to Orlando.
You can find Florida beach rentals at a discount. The top Florida beaches are much more enjoyable when you save money on your vacation.
This morning I took the Egmont Key Walking Tour that is sponsored each year by the Egmont Key Alliance. You can only get to Egmont Key State Park by boat. It is a small island with a rich history.
The Florida hurricane season runs from June 1 to November 30 on paper, but Mother Nature doesn't read. The hurricane season in Florida can extend on either side of those dates. Know hurricane safety.
Vanabode Life. The Vanabode lifestyle is one of relaxed travel, living cheaply, and enjoying all the adventure and romance of new destinations and experiences of van dwelling.
Learning how to start an online business correctly will save you money and frustration. An online home business will provide you two startling financial opportunities.
SBI Owners Leave Money On The Table. Site Build It owners leave money on the table when they fail to take legitimate tax writeoffs that are legally theirs.
Please review the Privacy Policy of Florida Beach Lifestyle.
Site map for Florida-Beach-Lifestyle.com
This is the affiliate products disclaimer for the products I have links to on this site.
Indian Rocks Beach nightlife is jumping right from the gate. My Place and JD's are side-by-side for more fun.
Redington Shores Beach is only about a one mile stretch, but the County Park beach access is sandwiched between two things you don't want to miss.
The Clearwater Florida beaches are continually ranked in the top Florida beaches by travel authorities. Clearwater FL is the Spring Break capital on the Florida Gulf Coast.
Know where to park for Clearwater Beach access. Bring lots of Quarters!
The Clearwater Aquarium is home for Winter, the little dolphin with the prosthetic tail. Clearwater Marine Aquarium is a worthwhile attraction to visit in Clearwater FL.
Island Way Grill is a hidden waterfront restaurant away from the congestion of Clearwater FL.
The Clear Sky Cafe on Clearwater Beach is great for locals and those on a Florida beaches vacation. Make this a place to eat and relax in Clearwater FL.
Jimmys Fish House, off the Clearwater Florida beaches, has good food, soft reggae music, and a great view.
Crabbys Bar and Grill on Clearwater Beach FL has great food and the best view on the beach. At Crabbys Beach Bar you can relax, listen to live music, and enjoy the panorama of Clearwater Beach.
You can easily have a cheap Florida beach vacation on the Florida west coast beaches.
Looking for the best Florida topless beaches? Finding a Florida clothing optional beach won't take long.
Learn stingray facts and ways to avoid injury. Knowing some stingray info can make things safer.
Learn the stingray shuffle to avoid injury during your Florida beach vacation. Stingray season on the Florida beaches is between April and October.
The St Pete Pier is a St Petersburg FL attraction with something for everyone.
The Florida beach life is one of simplicity, appreciation of natural beauty, and thankfulness.
Bands on the Sand will be held Saturday May 23 2009 on Treasure Island FL.
Buying foreclosed homes, especially Florida beach property is not a slam-dunk like is hyped on TV. You need to have a plan.
Do not believe all the hype about finding great deals at a Florida foreclosure auction.
This Anchorage Alaska vacation is a long way from the Florida beach
Many couples are looking for cheap beach wedding ideas for their Florida beach wedding. Cheap wedding planning tips have replaced the desire for an expensive ceremony.
Treasure Island weddings can be romantic, intimate and inexpensive. You can have a cheap Florida beach wedding at Sunset Beach Pavilion on Treasure Island FL.
Brides have legit concerns about mens beach wedding attire for their Florida beach wedding. It is good to set guidelines for mens beach wedding clothes.
If you are searching for a wedding diet to lose belly fat for your Florida beach wedding...STOP! You need a sensible nutrition plan instead.
Sunset Beach Pavilion, located on Treasure Island FL is a nice place for your Florida beach wedding.
The Florida Shell Shop on Treasure Island FL is a great choice for finding cheap wedding decorations for your Florida beach wedding. Florida shells are colorful, elegant, and inexpensive.
Treasure Island beaches running from Sunshine Beach to Sunset Beach are named by the locals for easy reference. Although the lines are a bit blurry along this Gulf Coast island, you'll get idea.
What do women want when it comes to viewing a man physically? Believe it or not, they actually want a guy who looks trim and athletic instead of hugely muscled.
Learn how to clean sea shells to make your Florida beach vacation even more memorable. The waters off the Florida beaches are great for finding sand dollars and unique shells.
Here is a simple sea shell cleaning tip you can use on your next Florida beach vacation. Keep odors away for your return home with this easy tip to clean sea shells you've found.
Many young couples want to get married at Sunset Beach Pavilion on Treasure Island FL. You can have a cheap beach wedding here, but you must adhere to the city policies.
Johns Pass Village and Boardwalk, located at the southern-most end of Madeira Beach FL, offers over a hundred different shops, waterfront dining establishments, bars, and activities.
To me, the Florida Gulf Beaches west of St. Petersburg rank as the top Florida beaches. If you are looking for fun, romance, or adventure you'll find it on the Florida Gulf Coast.
The Treasure Island Beachtrail is a beautifully paved walkway on Treasure Island FL that parallels the beach for about a mile. It is a scenic walkway that will enhance your Florida beach vacation.
Madeira Beach Florida is one of the top Florida beaches for family vacations. It is also a big draw for people who want to retire in Florida.
JDs Restaurant on Indian Rocks Beach FL is a great place to have breakfast. It is inexpensive and will enhance a cheap Florida beach vacation.
Billys Stonecrab Restaurant, located on beautiful Tierra Verde FL, is a casual, cool, and a great place for waterfront dining. Billy's specialties include outstanding seafood and plenty of fun.
Johns Pass Boardwalk is a collection of unique shops, great waterfront dining, and sight-seeing charters at the south end of Johns Pass Village, Madeira Beach FL. It is a major vacation attraction.
Bongo Bongos Beach Bar on St Pete Beach is a place to visit on your Florida beach vacation. Located on the Miracle Mile along Gulf Blvd, it is a bar hopping destination in "Party Town."
Here in Florida, beach running is a main exercise to lose belly fat. However, running to lose fat is a beach workout that needs to be done sensibly and with some safety considerations in mind.
The St Petersburg waterfront parks run about 23 blocks along Tampa Bay in downtown St Pete. Your Florida vacation will be even more enjoyable if you spend an afternoon walking in St Petersburg FL.
My Phoenix AZ vacation is about as far from the Florida beach as you can get. For people looking for the best hotels, my vote goes to Victory Inn of North Phoenix.
Going to Crabby Bills breakfast is a great way to start your morning. Located at 401 Gulf Blvd on Indian Rocks Beach, it provides a lazy "Old Florida" feel for your Florida beach vacation.
I attended a sand sculpture contest on Treasure Island Beach this past Saturday. Named
We went to Clear Sky Beachside Cafe for breakfast last Sunday. This is one of our favorite places to eat on Clearwater Beach. We split the Left Coast Omelette. The meal was outstanding
The Redington Shores breakwater is a curious attraction on Redington Shores beach. It is the only structure like this on the Florida Gulf beaches. You won't be able to miss it.
Alligator facts. Learn facts about alligators that inhabit Florida freshwaters. Learn alligator safety tips and what provokes alligator attacks by Florida alligators.
A beach workout on your Florida vacation can help you maintain your fitness. Beach exercise doesn't have to be restricted to just beach running. You can be creative in your beach body workouts.
Beach body workouts are usually associated with interval training combined with a body-weight exercise. If you are looking for ways to burn belly fat on your Florida beach vacation, this will help.
The Sunset Beach boardwalk at the south end of Treasure Island is a peaceful and picturesque walk around the island's tip. It's official name is the Sunset Beach Scenic Boardwalk, and lives up to it.
The Pass-A-Grille Historic 8th Avenue Business District is an interesting place to visit on your Florida beach vacation. Located on Pass-A-Grille Beach, it perhaps the oldest historic district.
I went to the Treasure Island Open Air Market this morning. It was a low-key event in Treasure Island, FL and definitely an interesting venue for a cheap Florida beach vacation.
A cheap Florida beach wedding can be a reality. It will definitely take some meticulous work to plan for a cheap beach wedding, but you can do it!
Winter the dolphin is the biggest success story ever at Clearwater Marine Aquarium. Clearwater, FL is now home to Winter the bottlenose dolphin who was rescued in near-death circumstances.
The Chalk Art Contest in Safety Harbor FL was held March 27-28. A lazy morning of street art makes for a cheap Florida beach vacation.
Running on sand provides us a great workout on the Florida beach. Sand running is a great way to burn belly fat with interval training. You'll work much harder with beach running than on pavement.
Easter brunch at the Hurricane Restaurant on Pass-A-Grille Beach was on a perfect Sunday morning. The sky was clear and sunny, it was about 78 degrees, and we could smell the clean Gulf air.
Middle Jetty on Sunset Beach, Treasure Island FL is a small, almost inconspicuous jetty just north of Blind Pass.
Beach Shanty Cafe on Clearwater Beach FL is a great little place for breakfast. It opens at 7:00am and sets the day perfectly for a cheap Florida beach vacation.
We had breakfast at Crabbys, on Clearwater Beach FL, this morning. We'd been to Crabbys Bar and Grill for dinner, but breakfast is something they just started.
A retirement home business can bring you satisfaction, income, and massive tax write-offs. You can start a profitable online home business with a proven program like I did.
Tax Deductions For Home Business. Tax deductions for home business can save you $1000's of dollars. Starting a home business will result in tremendous legal tax savings.
Is an online travel business for you? Are you a retiree who likes to travel and thinks about starting a web business? Why not combine your interests?
A legit work from home business is tough to find. Learning how to start an online business can be risky because of Internet scams.
We had breakfast Jimmy's Fish House, on Clearwater Beach, yesterday morning. It was a beautiful Florida beach spring day and going to Jimmy's Fish House for breakfast made it perfect.
Starting a web business can be both compelling and profitable. You can start an online home business, but you must go with a proven program.
Dinner at ChaCha Coconuts last night, on top of St Pete Pier, was relaxing, scenic, and filling. Downtown St Pete is beautiful at sunset, and Coconuts gives you the best view.
We had breakfast at the Blue Parrot, on St Pete Beach. Sundays are relaxed and laid back here on the Florida beach and going to the Blue Parrot for breakfast certainly enhances the feeling.
Online wealth creation! Get rich online by starting a home business! Do these headlines scare you or pique your interest?
The best Internet business is an online home business you can do in the most simple way that generates profits and provides you with legitimate tax writeoffs. Go with a proven web business model.
Starting a website business has a huge lure. The idea that you can make huge amounts of money by starting a website home business is both true...and misleading.
Breakfast at Sebastian's Cafe in Clearwater FL is not on the beach, but it is still helpful for a cheap Florida vacation. Sebastians Internet Cafe is quiet, with a great inexpensive breakfast.
American Stage In The Park, celebrated its 25th Anniversary in St Petersburg FL with the rock musical, Hair. Demens Landing Park looked like the assisted living bus pulled up for a love-in.
Sloppy Joe's Bar on Treasure Island, Florida is popular, laid back, and fun. A sister site to its more famous Key West sibling, it has a huge following of both locals and Florida beach visitors.
The Sloppy Joes sand sculpture has been a major attraction at the popular Treasure Island bar. The sand sculpture at Sloppy Joes was created by Dan Doubleday and Meredith Corson of Sanding Ovations.
Love bug season on the Florida beaches occurs twice each year, April-May and August-September. Love bugs get their name from flying connected end-to-end. These tiny flies are a nuisance pest.
The Egmont Key Ferry transports visitors from Fort DeSoto Park, the most southern point of Pinellas County, to Egmont Key State Park. The ferry to Egmont Key runs twice each day.
The Fort DeSoto Dog Beach is hugely popular with dog owners who visit Fort DeSoto Park. The dog beach is connected to Paws Park, which provides pups a chance to romp and chase on grass as well.
A luxury yacht charter can make your Florida beach vacation romantic and laid back. St. Petersburg has become a hub to charter a luxury yacht on the Florida Gulf Coast.
Treasure Island Park, is both relaxing and built for adult outdoor activity. This large grassy area is connected with the Treasure Island Community Center and is located at 104th Avenue.
You can become a travel writer, and make money, without the hassle of submitting articles to magazines. You can do travel writing from your own home and legally writeoff almost all your expenses.
Becoming a travel writer is much easier than you think. You can become a travel writer, earn good money, and writeoff your expenses as business deductions.
A travel writing career can be launched as your own home business. Travel writing online has overtaken articles in magazines. You can make money and deduct your expenses with an online home business.
Earning an online teaching degree was the topic of conversation this morning. Although we knew distance learning was now more popular, we learned getting a teaching degree online was now possible.
JB's Island Cafe, on Clearwater Beach, is a nice place for a laid back and relaxing breakfast. This is a great little place to start your Florida beach vacation morning.
The Ocean Breeze Restaurant, just east of Blind Pass Bridge on St Pete Beach, is an upscale restaurant featuring tapas cuisine. Located on the Intercoastal Waterway, diners get great food and a view.
Bamboo Beer Garden, the iconic landmark bar on Madeira Beach FL, anchors the north end of John's Pass Village.
Is getting a teaching degree online the way to go? Distance learning from an Internet college is becoming more popular, but is an online teaching degree the way to go?
Our breakfast at Post Corner Restaurant on Clearwater Beach was a relaxing way to start the morning. It was an early Florida beach morning and the patio seating gave us a great view of the Beach Walk.
Male belly fat is a deal-breaker for meeting women on the Florida beach. You can burn belly fat and gain ab definition with a consistent proven program. Don't let male ab fat shoot you down.
Male abdominal fat will hinder your efforts to meet women on the Florida beach. Male ab fat is a turnoff to chicks. Lose belly fat and build lean muscle with a legitimate proven program.
Shopping at John's Pass on Madeira Beach is a major activity for visitors on the Florida Gulf Beaches. You can find everything from henna tattoos to Life Is Good t-shirts at the John's Pass stores.
The Mangos Restaurant brunch, at the Double Tree Resort on Redington Beach FL, is outstanding. We had brunch at Mangos this past Sunday and were treated to a laid-back breakfast with a relaxing view.
Looking for a legitimate Internet business? We will show you how to find a legitimate online business. Get answers when you look for a legitimate home business.
Natural skin moisturizers from homemade skincare recipes are used almost exclusively here on the Florida beaches by women in the know. They can make a natural anti-aging cream for less than a dollar.
We had breakfast at Kellys Restaurant in Dunedin FL. Located at the way to Honeymoon Island, my girlfriend had heard the food was great at Kelly's Restaurant.
Best Anti-Aging Cream. The best anti-aging cream for preventing wrinkles and skin aging can quite possibly be made in your own kitchen. The women in our group swear by homemade skincare recipes.
Homemade face cream is very popular for beach skincare. Women here favor homemade moisturizers and natural skincare treatment to help in anti-aging and preventing wrinkles.
Homemade moisturizers can be easily created in your own kitchen. Use natural skincare recipes for your homemade beauty products to soften skin and prevent wrinkles.
Learn how to burn belly fat and become more appealing to women here on the Florida beach. Male belly fat is a turn-off to women. Get rid of love handles and build lean muscle.
Beach interval workouts are a great way to burn belly fat. Running in sand on the Florida beach increases the intensity for fat loss. You will definitely get lean with interval training.
Homemade skincare recipes are very popular on the Florida beaches. Natural skincare recipes soften your skin and help prevent wrinkles. Organic moisturizers give back to a woman's skin, not take away.
Homemade skin treatments have become more appealing to women because of their gentle and healthy qualities. The benefits of natural skincare recipes are far superior to commercial skin products.
Natural face moisturizers from homemade skincare recipes are increasing in popularity, especially on the Florida beaches. Natural skincare products help women prevent wrinkles and soften their skin.
Homemade skincare products are increasingly appealing to women. Making their own natural skin treatments gives them complete control over the ingredients.
The best belly fat diet is actually not a diet at all. Guys who want to burn belly fat and lose love handles must commit to a comprehensive lifestyle change, not a special diet for men.
The protein shake diet is becoming more prevalent here on the Florida beach. Guys looking to burn belly fat and build lean muscle are now bringing thick protein shakes in their coolers.
Healthy skincare for women is much more than the application of natural moisturizers and anti-aging treatments. Skincare health has as much to do with what you put into your body, as what you apply.
Ab definition can be increased with a comprehensive proven program. Lose male belly fat, get rid of love handles, and build lean muscle. You can get defined abs with commitment and a solid strategy.
You can walk off belly fat. Here on the Florida beach, many people walk for health and fat loss as daily exercise. You too can lose fat by walking.
Female six pack abs look fit and sexy. You can lose belly fat and strengthen lean muscle with a structured fat loss program. You too can get toned female abs.
Female abs that are toned and trim draw a lot of visual attention on the Florida beaches. You can eliminate belly fat and get female six pack abs with a committed fat loss plan.
Running for fat loss on the Florida beach is a daily activity, but not the whole story. If you want to burn belly fat, you must adhere to a good diet and workout to build lean muscle mass.
Tax writeoffs that are perfectly legal save home business owners $1000's of dollars. You can convert ordinary expenses into home business deductions and pay less taxes.
How to become a travel writer? This is a question I asked myself. I answered it by starting an online home business. I write what I want and I writeoff my expenses.
The best travel writing tip I can give you is to start your own online home business. Instead of wondering how to become a travel writer, I now wonder, "How can I make even more money?"
The best antiaging cream is actually the one that nourishes and rejuvenates your skin the best. Here on the Florida beach, homemade face moisturizers make sense to women who enjoy the outdoors.
Homemade face moisturizers and natural skincare treatments are part of the Florida beach lifestyle for women. You can create natural face moisturizers to nourish your skin and help prevent wrinkles.
Sunshine Beach is a on the northern end of Treasure Island, FL. Starting just south of John's Pass, this laid back beach parallels Sunshine Blvd for about seven blocks between 126th Ave and 120th Ave.
North Straub Park is a low-key, relaxing city park in downtown St Petersburg FL. With a large grassy area, shaded benches, and a curving walkway across from the yacht basin, North Straub is beautiful.
Safe natural skin care is a prominent theme on the Florida beaches. Women here favor homemade skincare products. You, too, can prevent skin aging with natural skin care moisturizers.
Archibald Park Beach is located where Madeira Way deadends into Gulf Blvd on Madeira Beach. Named for early developer Albert Archibald, it is a popular Florida beach with sugary white sand.
Pioneer Park, in downtown St Pete, is quiet and restful. This little one-square block park is part of the St Petersburg Waterfront Parks system. It's a great place to watch boats or doze off.
Simple natural skincare is the watchword on the Florida beaches. Women here are vigilant about creating anti-aging moisturizers from homemade skincare recipes.
The Treasure Island Beach Renourishment project is underway at Sunshine Beach. Beach renourishment is utilized to counteract the effects of storm and erosion on the coastline.
We had dinner at Grayl's Hotel in St Petersburg FL on Friday. The outside patio at Grayl's Historic Hotel was perfect for a quiet, romantic, and inexpensive dinner in downtown St Pete.
Beach exercise is pretty free-flowing. Although beach running is an excellent way to burn belly fat, beach workouts are more fun, and productive, when they include exercise to build lean muscle.
South Straub Park, in St Petersburg FL is an open and clean park. Set between 1st Ave NE and 2nd Ave NE on Bayshore Drive in downtown St Pete, it is part of the St Petersburg Waterfront Parks system.
Running and fat loss have been connected forever on the Florida beaches. Beach running is outstanding to help burn belly fat and increase lean muscle. However, you must do it sensibly to get results.
Cheap beach vacation ideas to help you save more money. The Florida beaches are beautiful and laid-back. A cheap Florida vacation is possible with good planning.
Breakfast at Ricky T's Bar and Grille, on Treasure Island, FL, was outstanding this morning. After finishing one of our beach interval workouts, it was great to relax here on Gulf Blvd for breakfast.
Demens Landing Park is part of the St Petersburg Waterfront Parks system. Situated between two yacht basins, this scenic park is the site for the springtime American Stage in the Park.
Breakfast at Jimmy Guana's, on Indian Rocks Beach, was quiet, scenic, and inexpensive. This is a nice place to experince a romantic morning on the Florida beaches, BUT there is one major hang-up.
Beach wedding flowers do not have to break your budget. Save money on your cheap Florida Beach wedding with some simple flower strategies.
Beach wedding centerpieces need not be expensive, nor elaborate. You can have a cheap Florida beach wedding by saving a huge amount of money on centerpieces.
Vinoy Park is a beautiful, active, and relaxing piece of the St Petersburg Waterfront Park system. This is one of the prettiest areas in downtown St Pete.
Gizella Kopsick Palm Arboretum is part of the St. Petersburg Waterfront Parks system along Tampa Bay. Located where 10th Ave NE hits North Shore Drive, it is scenic, quiet, and naturally enclosed.
The Sand Sculpture Contest 2010, is taking place on Treasure Island Beach. Sand art brings a lot of energy to the Florida beaches, and the competitors always over-deliver.
Breakfast at Caddy's, on Sunset Beach in Treasure Island FL, makes for a laid back, feet-in-the-sand morning. It is definitely on the list for a cheap Florida beaches vacation.
Beach wedding supplies for your cheap Florida beach wedding can easily be held to a minimum. You can save $1000's of dollars on your wedding with some simple planning.
Beach wedding reception decorations can save your family $1000's of dollars if you plan selectively. You can have a cheap Florida beach wedding with novel and simple reception decorations.
On top of St Pete Pier, from Cha Cha Coconuts, you have an unrivaled view of downtown St Pete and Tampa Bay.
Sunset Beach Florida is located on the southern-most tip of Treasure Island. It is a small community of diverse outlooks, one of the most relaxing Florida beaches, and controversial Caddy's Beach Bar.
Sunset Beach rentals, on Treasure Island FL, run the entire gamut of accommodations. Rentals on Sunset Beach include everything from palatial condos, to extremely low-cost efficiency apartments.
Historic Round Lake Park, on the edge of downtown St Petersburg FL, is an almost forgotten corner of Old St Pete. Quiet and quaint, it is a nice place to read, or just think, for locals and visitors
Running on the beach is the main way we burn belly fat here on the Florida Gulf Coast. Interval workouts in sand are great for getting rid of stomach fat and building lean muscle.
The Frog Pond Restaurant, on beautiful North Redington Beach, was the site of our breakfast last Tuesday. Breakfast at the Frog Pond packs in both locals, and curious visitors to the Florida Beaches.
Beach sprint intervals are the newest workout we are using to burn belly fat. Sprint intervals on the Florida beaches have the potential to build lean muscle tissue and elevate growth hormone levels.
We had an early dinner at Palm Pavilion, last Sunday. Although it was sunny on Clearwater Beach, it was still a bit chilly. The patio was heated, though, and the food was excellent.
Sundresses for weddings on the Florida beach are the way to go. You can find beautiful, low-cost sundresses. A cheap beach wedding is enhanced even more when you look wonderful in a simple sundress.
American Stage In The Park 2011. We saw the opening night of RENT, Wednesday evening. Held at Demens Landing Park, in downtown St Pete, the production was excellent.
Dinner at Fresco's. We had dinner at Fresco's Waterfront Bistro in downtown St Pete, last Wednesday. Right off the Vinoy Basin, it was waterfront dining at its best.
Cheap beach wedding attire. Keep costs down on your Florida beach wedding with cheap beach wedding attire. Save $100's of dollars with casual, inexpensive clothing at a beach wedding.
Breakfast at Paradise Grille. We had breakfast at Paradise Grille on quiet Pass-A-Grille Beach. It was cheap, filling, and laid back. The Florida beach at its best.
MBFX Forex System Reviews. MBFX Forex System reviews have exploded the sales of acclaimed currency trader, Mostafa Belkhayate's Forex trading software to best-seller status. Now, you can profit too.
Does the MBFX Forex System work? The question, does the MBFX Forex System work gets asked almost everyday when new investors meet our group. Mostafa Belkhayate's Forex trading software gets results.
Penny Stock Egghead Reviews. Penny Stock Egghead reviews are responsible for the explosive sales of Nathan Gold's investment subscription service for one reason, It Gets Results.
MBFX Forex System Simplifies Trading. The MBFX Forex System simplifies trading by providing clear indicators. This profitable forex trading strategy, created by Mostafa Belkhayate, gets solid results.
Is The MBFX Forex System legit? Explosive sales to experienced traders and consistent profits answer the question, "Is the MBFX Forex System legit?"
Penny Stock Egghead. Penny Stock Egghead is the explosive, best-selling investment service from mathematics prodigy, Nathan Gold. His guidance is a best-seller for one reason, It makes money.
Nathan Gold Penny Stock Egghead. Profit now from Nathan Gold Penny Stock Egghead. Penny stock reviews have exploded sales of his services. You can receive solid penny stock alerts, and make money.
Flip This Website Review. Flip This Website reviews are directly responsible for the explosive sales of Zac Johnson's cutting edge guidebook to selling websites on Flippa. Make money now!
Dinner At Jimmy B's Beach Bar. Dinner At Jimmy B's Beach Bar on St Pete Beach, last Friday night was full of fun. Great food, good music, dynamite Florida beach sunset. This is the life!
Breakfast At The Hanger Restaurant. We had breakfast at the Hanger Restaurant in downtown St Pete, on Sunday. Located at Albert Whitted Airport, it is a laid back and relaxed outdoor setting.
BJ Thomas Concert. We saw the BJ Thomas concert at Largo Cultural Center last Monday evening. It was outstanding. BJ Thomas still has the great voice.
Black Friday Shopping On The Beach. Black Friday shopping on the beach is about as intense as watching old men nap. There is no craziness on the Florida beaches.
Primal Blueprint 21 Day Body Transformation. The Primal Blueprint 21 Day Body Transformation is the newest best-selling book by fitness author Mark Sisson. I have one recommendation, buy it!
New Years Day Run. This New Years Day run started 2012 off perfectly. It is like Paradise on the laid-back Florida Gulf Beaches and morning fitness sets the tone for the day on Treasure Island.
Lunch At Caddy's. We had lunch at Caddy's Beach Bar down at Sunset Beach on Treasure Island. It was a cool, sunny, and quiet Florida beach day.
Rocky Horror Show. The Rocky Horror Show, at Demens Landing Park in downtown St Petersburg is a hit. This 2012 edition of American Stage in the Park is an enjoyable evening off beautiful Tampa Bay.
Breakfast At Crabby Bills Loading Dock. We had breakfast at Crabby Bill's Loading Dock, last Sunday. Set in laid back Indian Rocks Beach, Crabby Bill's Loading Dock offers a relaxing breakfast.
Sundresses For Beach Weddings. Sundresses for beach weddings are the absolute best way to go. You can look trim, desirable, and beautiful in cheap wedding dresses. Save $1000's on your beach wedding!
The best Madeira Beach FL bars are actually across from the beach. Cool Madeira Beach bars include the Old Oar House, the Daiquiri Deck, and the Bamboo Beer Garden.
The Grand Plaza Hotel on St. Pete Beach, also called The Grand Plaza Beach Resort, is refined elegance in a laid-back Florida beach surfer community.
Treasure Island nightlife has something for everyone. Whether you are looking for dancing at Captain Kosmakos, the high-energy fun of Gators Cafe, or just a quiet evening,Treasure Island FL has it all
Gators Cafe at Johns Pass on Treasure Island FL, sometimes known as Gators Beach Bar is great for breakfast.
Treasure Island FL has a some of the best beach bars on the Gulf Coast. Why? Because some of them are actually located right on the beautiful beach.
Ironically, the best places to eat in Madeira Beach FL are mostly inside and across from the beach. However,
The Gulf Beaches Museum, on Pass-A-Grille Beach, can add depth to a cheap Florida beach vacation.
Public beach access on St Pete Beach FL can be found at several places on this four-mile stretch of white sand. It ranges from Upham Beach down to Pass-A-Grille Beach.
St Pete Beach Bars are the party artery of Florida beach nightlife. You can have lots of fun in a one mile stretch.
Staying in a St Pete Beach hotel should not mean paying an unreasonable rate. Learn to negotiate.
Stay at a Treasure Island resort for a luxury experience on the widest white-sand Florida beach.
The Undertow Bar is a cool place to have breakfast. It's quiet with a view of St Pete Beach.
Sunset Vista Beach is actually a small park located on the Gulf in Treasure Island FL. It is a quiet and romanic setting for watching beautiful Florida beach sunsets.
The Bilmar Beach Resort on Treasure Island has been a definitive Florida beach vacation destination for years.
At a time when free parking at public beach access is becoming extinct, Indian Rocks Beach FL does its best to maintain this Florida beach tradition.
The beach rake is the large green John Deere tractor you see in the mornings on Treasure Island. It gathers the wrack (seaweed) and also tills up the crusty top of the beach renourishment sand.
There are several areas of public beach access to the beautiful white sands of Treasure Island FL. Some require you feed quarters in a meter, but some are also free.
The Treasure Island Pavilion, located on quiet Sunset Beach is popular for beach weddings.
The Undertow Beach Bar on St Pete Beach has good food, cold beer and waitresses in bikini's. A great start to St Pete Beach nightlife.
St Pete Beach nightlife from Sea Hags to Carl's Piano Bar is like getting dressed up with too many places to go.
The first nice day to run on the beach finally got here on Wednesday (Oct 10th). We had been waiting all summer for the humidity to break. Finally, sunny, cool, and drier days are ahead.
What are the best shoes for running on the beach? I recommend purchasing the sturdiest shoe you can, with little lateral movement, since beach running requires adjustments with each step.
Networking In Phoenix AZ. I am in Phoenix, Arizona networking with other online home business owners to increase my profits from my Internet home business.
Halloween Party At HandleBar J. When I travel away from the Florida beach in October, I like to go to Scottsdale AZ for the Halloween Party at HandleBar J's.
Lunch At Island Outpost Restaurant. We had lunch at the Island Outpost Restaurant on our way to Honeymoon Island. Located at 466 Causeway Boulevard Dunedin, FL 34698, we rode our bikes to it.
Scariest Book To Read At The Beach. To me, the scariest book for the beach has to be MEG. Author Steve Alten turns a giant, prehistoric shark loose on the Pacific Coast.
Sunrise At Johns Pass. I love it. The peacefulness of this little shopping village accentuates the laid back Florida beach life we enjoy here on Treasure Island.
Become A Florida Snowbird. You do not have to live full-time in Florida to enjoy Paradise. Many retirees RV in Florida, stay in cheaper rentals, or Florida mobile home parks. Snowbirds have it great!
Dinner At O'Maddy's. We had dinner at O'Maddy's in laid-back Gulfport FL, last night. We usually eat here on evenings when we attend the swing dance at Gulfport Casino.
Thanksgiving Day beach run. My Thanksgiving beach run, just after sunrise on Treasure Island FL, was cool, clear, uncluttered, and beautiful.
Rumble Roller Benefits. The benefits of the Rumble Roller can be seen in just a few short weeks. Those of us who run and train on the Florida beach find this deep tissue massage extremely therapeutic.
Foam roller massage for beach running. Reduce pain, prevent injury, and enhance self myofascial release with foam roller massage. This is the newest injury intervention for beach running.
Vanabode Living. Some Vanabode living basics to help you enjoy the laid back lifestyle of cheap travel and van life. The Vanabode lifestyle is all about making things better.
Vanabode Travel. The laid back lifestyle of Vanabode travel appeals to more and more people looking to live cheaply, and have a freedom life filled with adventure and new destinations.
Living In A Van. Discover the sense of freedom and adventure from living in a van. The Vanabode lifestyle affords you cheap travel and a laid back life in beautiful settings.
Vanabode Lifestyle. The Vanabode lifestyle allows you to live the Freedom life, by combining low stress travel, with continual adventure while living cheaply.
Van Living. The appeal of van living is at the heart of the Vanabode lifestyle. Cheap travel, adventure, beautiful new places, and a stress free life are all benefits of living in a van.
A nice morning beach bike ride is the perfect way to start the day in Florida. Your retirement lifestyle is enhanced with a home business.
A retirement morning at Pass-A-Grille Beach is lazy and unhurried. It is also profitable because it is part of my home business Florida beach lifestyle.
My morning bike ride in Gulfport FL was the perfect way to begin a new day. My retirement lifestyle is made possible with an online home business.
A breakfast ride in Gulfport FL is a great way to start the day. I love retirement living on the Florida beaches.
A small kindle purchase can make a difference in you being successful in an online business.
Blogging for profit in retirement has taken a huge upswing. You can learn to make money online and create extra retirement income.
A morning bike ride on the St Pete waterfront is a relaxing way to start your day in retirement. It is beautiful, cool, and quiet.
A humid morning beach run is pretty typical on the Gulf Beaches from July to September. However, short interval workouts enhance belly fat loss.
Why go on vacation if you live in Florida? I do it because it makes me money and I do not have to pay for it.
Gulfport Thanksgiving Day. I am thankful to be retired and relaxing in Gulfport FL on Thanksgiving Day.
Filed Under:Florida Beach Lifestyle