Public Beach Access...St Pete Beach FL has large parking lots but bring your Quarters
Even though it is another overbuilt barrier island, there is good public beach access in St Pete Beach FL with many parking spaces to get you away from civilization.
However, you will need a handful of Quarters (or a credit card) if you drive to these areas and have to park.
St Pete Beach is known for its laid-back surfer community atmosphere and its high-energy nightlife.
Every good-looking girl on the Florida Gulf Coast comes here during Spring Break if she is not at Clearwater Beach.
Public beach access parking areas get filled up quickly.
Pete Elliot, who live across the bridge in St Petersburg, said, "I love coming to St Pete Beach. If you want to see a lot of good-looking women between 25 and 45, this is the place."
Public Beach Access St Pete Beach FL

Upham Beach - Public Beach Access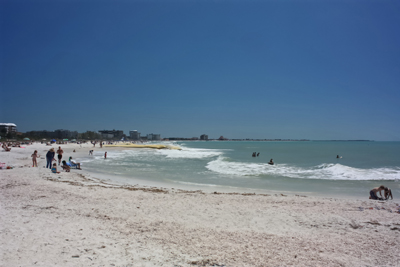 This beach access is easiest to find if you turn west off Gulf Blvd on 68th Avenue. Upham Beach runs from 67th Avenue to right about 71st Avenue.
The parking lot is set off by a low curving Art Deco wall between it and the beach. Be aware that is seems a bit narrow, so keep an eye out when you are backing up.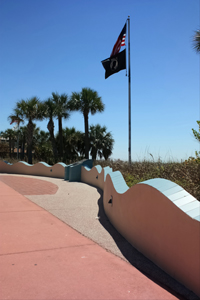 At this time, parking cost $2.00 per hour. (Expect it to go up, anytime.) You can pay by credit card, if needed. The machine is right up by the snack bar.
The machine is a bit tricky the first time you encounter it, but if you read the directions and watch the prompts in the little green window, you should be okay. 
It is best to check the number of your parking space before you try to pay for your spot. Do NOT put money in, then walk back to check your number.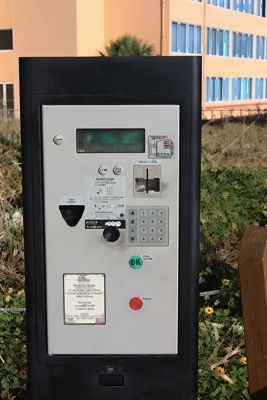 The snack bar on this St Pete Beach public access is a bit more sophisticated than others you'll find. It serves breakfast and lunch, and is open from 8:00 AM to 4:00 PM. There are some good choices of food that may surprise you.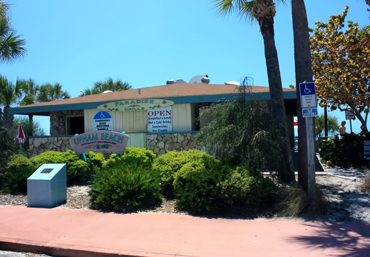 Like many improved public beach access sites, this one on Upham Beach has showers and boardwalks over the vegetation to the beach.
One thing you should know, this beach has been "renourished" meaning sand has been pumped from Gulf to replenish that taken away by both erosion and storms.
Renourished sand is broken fragments of shell life dredged up from a mile offshore. It does not have the same feel as the soft white sand you see on Florida postcards. It can feel a bit like glass to sensitive feet.
To help retard the severe erosion, huge fabric geotubes filled with sand have been placed under the beach AND in places at the shore line.
These do not bother a lot of people, as evidenced by the huge crowds that show up here during Spring Break and holidays, but I find them unattractive. For me, walking south down the beach for about 10 minutes solves having to deal with them.
Joe Henson, a St Pete Beach resident said, "You know, at first these geotubes really bothered me, but now, I rarely think about them. To me, they are just part of Upham beach.
I can walk down the sand a few hundred yards, where there are other public beach access paths, and I forget all about them. St Pete Beach is about having fun and living a laid-back lifestyle. I love it here.
I walk. I run. I play SpikeBall. I fall asleep in the morning sun. It really doesn't get much better."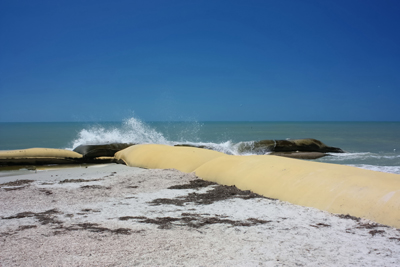 There are a lot of positives about Upham Beach...most notably the proximity of several great little beach bars, nice ocean water, and some beach vegetation...but the big drawback for me is the overwhelming amount of people that can show up there. Especially during Spring Break and Holidays.
The public beach access in St Pete Beach FL is definitely a success when it comes to usage.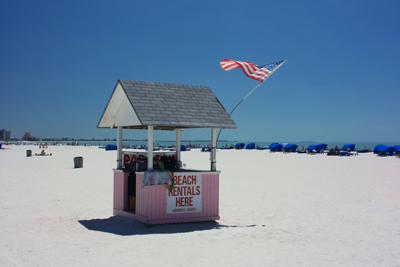 During Spring Break, this year, I walked south toward the St. Pete Municipal Beach and saw a huge inflatable water slide behind the Sandpiper/Trade Winds Resort...with a line of kids waiting to go down.
It truly stopped me. Here, on St. Pete Beach is acres of beautiful white beach and nice Gulf water, yet these kids were paying...get this...$4 per slide down or $35 for the day.
That doesn't sound like a beach experience...it sounds like a retirement plan!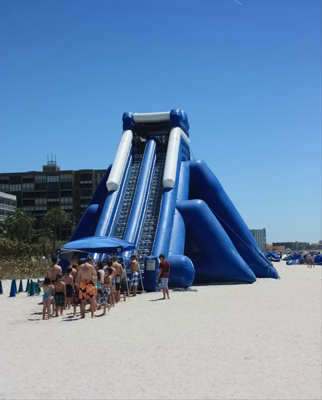 I immediately turned back to Swigwam's Beach Bar to think about that one while I held a cold beer to my head. I guess I don't get it.
Don't let my negativity towards big crowds of beach-goers turn you off to this nice little area in a great Florida beach city. Upham Beach does have one amazing aspect...Every really good-looking woman is drawn to this beach.
They love the energy, the ease of mingling, the variety of activities, and a beautiful place to wear their newest bikini.
If meeting someone truly good-looking is your motivation to visit St. Pete Beach FL, this is a target-rich area.




St Pete Municipal Beach
If you drive south of the Upham Beach Pubic Access on Gulf Blvd., you'll find the St Pete Municipal Beach Access parking lot.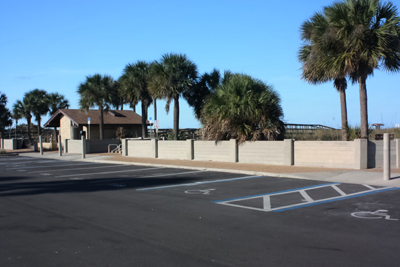 Although it seems like a thousand parking spaces here, they can fill up quickly on Spring Break or a 3-day weekend. Like the Upham Beach public access, make sure you have a handful of Quarters or your credit card.
One hour will run you about $2.00 per hour, but $10 will pay for the whole day. (These were the prices when I revised this page. They could have easily increased.) These pay station machines are just like the ones at Upham Beach.
There are clean restrooms (with soap and an intact mirror!) Four boardwalk bridges get you over the a nicely landscaped dune, and there are outdoor showers to wash off sand and dried salt from the Gulf.
There are no lifeguards at this beach.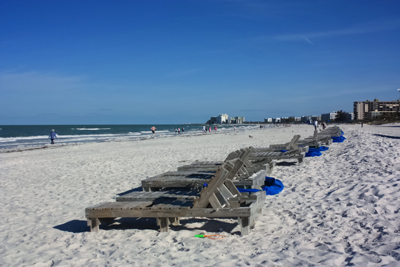 This is a nice public beach access. As you can see, there is just a fraction of the rental chairs compared to Upham Beach.
I like the lazy feel of this little piece of Paradise...but to me, it does not compare with Pass-A-Grille Beach. Ernest Hemmingway would put Quarters in a machine to snooze down there.
Remember, public beach access on St Pete Beach may look plentiful, but there are times when it can fill up fast. Get there early.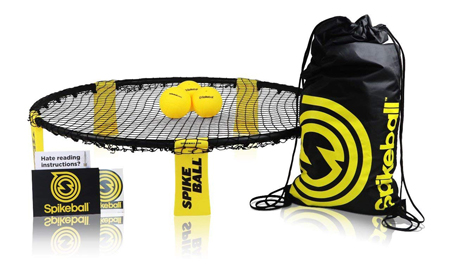 Learn more about the most fun game on the
Florida Gulf Beaches
Return to St Pete Beach main page from Public Beach Access - St Pete Beach FL 


Find out about Pass-A-Grille Beach...definitely Old Florida 


Go to Florida Beach Lifestyle home page 


Look your best on St Pete Beach - Lose Belly Fat - Get ripped 


What should I know about Stingray Season on St Pete Beach?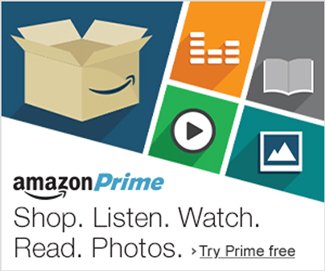 As an Amazon Associate I earn a small commission from qualifying purchases.

Filed Under:Public Beach Access St Pete Beach FL