Sundresses For Beach Weddings
Save $1000's of dollars by starting with sundresses for beach weddings here in Florida!
Sundresses for beach weddings
are the absolute best way to go. You can look trim, desirable, and beautiful in simple, cheap wedding dresses that highlight your special day.
In the past several years, cheap Florida beach weddings have become the signature for young couples getting married here in Paradise.
For decades, brides dreamed of full-blown, extravagant ceremonies in elaborate church settings, then holding a their reception in palatial resorts or country clubs.
That all changed about 2006, when the economy took such a hit. Young brides had no desire to force their parents into tapping their savings for a lavish and expensive wedding.
Growing up on the Florida beaches gave them an intimate connection with Nature. Once they found they could fund an entire beach wedding, including a reception at a seaside park ramada, all for less than $1500, the race was on.
Sundresses for beach weddings made perfect sense for three reasons: First, they embodied the spirit of creating a couples' unity in a beautiful setting. Secondly, they were extremely inexpensive. And third, young brides has grown up wearing them...and knew how attractive and flattering a simple cheap sundress made them look.
It wasn't much of a reach for brides to see that they could easily save a $1000 dollars just on their "wedding gown," alone. Cheap Florida beach weddings are now the norm.
Seriously...do you really need to mess with expensive wedding planners, elaborate decorations, caterers who pad the bill, and high-priced reception ballrooms that are more hype than substance?
With some concentrated planning, you can come up with more cheap beach wedding ideas than you ever thought possible. (And your parents will be ecstatic!)
Save $1000's on your beach wedding!


Sundresses For Beach Weddings - Some considerations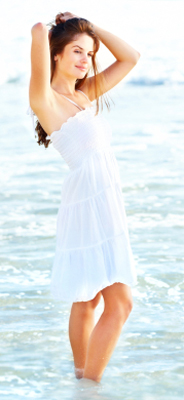 Young brides here on the Florida beaches see simple, cheap beach wedding dresses as the standard. Girls who come from inland Florida, or out of state, seem to spend much more on design and accessories.
You can purchase delicate, soft sundresses for Florida beach weddings at places like Sears, JC Penny's, Target, and even online at Amazon.com. I've been to enough inexpensive Florida beach weddings to know that sundresses can start at about $30...but top out at several hundred if brides get carried away with elaborate lace, tucks, etc.
Just from anecdotal experience, it seems the norm...for girls who grew up on the beach...is about $75 - $90.
* Short sundresses work best. They do not snag on shells, they are cooling, and they usually do not get damaged when couples walk into the surf for traditional shell tossing or floating out a message in a bottle.
* Sundresses come in a variety of soft fabrics, including chiffon, linen, charmeuse, and satin, as well as basic cotton.
* Sundresses with clean lines look both elegant and feminine.
* High necklines, and heavy beading have no place in a beach wedding gown. Simple ribbons are about all you will see at Florida beach weddings.
Think about it...what could look more natural and feminine than a young bride with sunlight on her face and a gentle Gulf breeze rustling the soft drape of her simple sundress?
Sundresses for beach weddings make the most sense for both practical and economical reasons.




How To Have A GORGEOUS Cheap Wedding - Kindle Edition


Guidelines For Men's Beach Wedding Attire


Natural skin moisturizers are the standard for skin care on the Florida beaches


Cheap beach wedding reception decorations


Keep beach wedding flowers inexpensive


Go to Florida Beach Life home from Sundresses For Beach Weddings page