Cheap Beach Wedding Attire
Save money and look great with casual and cheap beach wedding attire.
Cheap beach wedding attire
. Keep costs way down on your
Florida beach wedding
. You will save $100's of dollars with casual, inexpensive clothing.
Cheap Florida beach weddings are becoming increasingly more popular each year.
Young people have become much more considerate of family finances and young brides are, now, almost competitive when it comes to seeing how much they can save on a Florida beach wedding.
One area of huge savings has been to go with inexpensive sundresses for weddings. The bride and her attendants can look both beautiful and elegant, while keeping with the casual theme of beach weddings, with sundresses that cost under $100.
Men's beach wedding attire can cost even less.
Lavish church weddings, that sent families into hock for $15,000 - $20,000 dollars, have given way here in Florida to frugal brides with cheap beach wedding ideas that can cut those costs by 90%!



Real life cheap beach wedding attire
Here are a couple of shots I took out on
Pass-A-Grille Beach
of a couple preparing for their Florida beach wedding.
Do you think the parents were thankful for the inexpensive tastes of this young couple?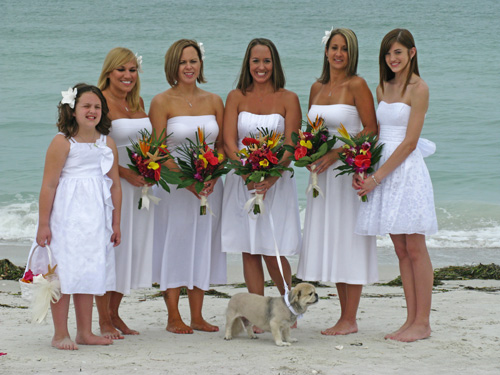 The bride and her attendants look happy and beautiful in nice white sundresses. (Notice that girls wear short dresses so the sand and salty sea water do not damage it.)




The groom and groomsmen went with white t-shirts and khaki cargo-shorts. How much money do you think they saved on tuxes and shoes?

Everyone wants their wedding to be special...but that doesn't mean it has to be expensive. You can start the savings right from the gate by going with casual, cheap beach wedding attire.



Go to Florida Beaches home page from Cheap Beach Wedding Attire page