Florida foreclosures - can you still find bargains in Florida beach real estate?
Finding Florida foreclosures is one thing, being able to get through the short sales buying process is another. Patience and research are your two most valuable tools.
I am continually asked about buying Florida homes in foreclosure, especially distressed homes on the Florida beach. Are there many available? Can you get them cheaply? Are sellers open to short sales?
Listen, if you really want to purchase a home in foreclosure you will need two main character traits...incredible patience and the tenacity to do voluminous research.
Forget what you hear on cable TV about people purchasing distressed real estate, then flipping it for a quick $100K. Those days are over...and probably never were really here.
Here is something else about foreclosures that those hyped-up infomericials will not tell you:
The competition for the purchase of distressed Florida beach real estate will get tougher as the Obama administration tinkers with its programs to help struggling homeowners stave off losing their house.



Do you have a plan to buy Florida foreclosures?

If you plan on purchasing Florida beach real estate, especially distressed property with a short sale, you must have a well-thought out and detailed plan. To me, the best authority on purchasing property exposed to foreclosure in Florida is Thomas Lucier.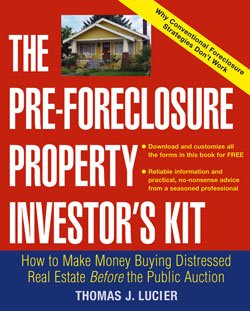 His book is the definitive text on planning and purchase of a distressed property.
Some people are put off by his style of writing because he expects the buyer to have employment (or a solid financial base) and great credit...and he says this.
Tom is also deliberate and thorough in his many checklists for finding and purchasing foreclosures.
His primary focus is: (1) find good property that is not damaged or only needs minor handyman skills (2) research exhaustively to uncover any liens on the property (3) cover your butt in the best legal way possible.
He writes intelligently and writes from experience. His books are tight, with no fluff and he is pretty much in your face about doing extensive research and using checklists to keep yourself out of stupid legal entanglements once you find a property.


If you are going to buy Florida beach foreclosures... you need a solid plan to keep from getting separated from your wallet and staying out of legal messes.


Don't lose your shirt at Florida Foreclosure Auctions



Go to Florida Beach Lifestyle home from Florida Foreclosures page