Treasure Island FL - Paradise for Your Florida Beach Vacation or Florida Beach Wedding
Treasure Island FL is ideal for your Florida beach wedding or your vacation on the Florida beaches.
I love the beach life of this little island. To me, it just doesn't get any better.
Looking for a wide white beach? Treasure Island has it. Looking for some unique beach bars or places to dine? They are right here on Treasure Island. Want some night life or a place to dance after a day at the beach? Treasure Island is for you. Always wanted to spend a week in a romantic little beach cottage? It's all right here.
When they named Treasure Island FL, they got it right the first time. Beautiful wide beaches, beach bars and restaurants facing the Gulf, great little places to rent. This is where you wear flip-flops and make living outdoors a priority.
Treasure Island is one of the southern barrier islands on the Gulf Coast. Bordered on the north by John's Pass and on the south by Blind Pass, this little three-mile long island is home to about 7,500 residents.
Some people will whine that it is overbuilt and over-commercialized with condos and motels...well, they're probably right...but wait until you see Treasure Island Beach.
The Chamber of Commerce likes to say Treasure Island FL has the widest white sand beach on the Gulf Coast. It is no wonder so many brides chose this island for their Florida beach wedding.
I've never stepped it off, but I love walking over those little boardwalk bridges and seeing such a huge expanse of beautiful Florida beach. It makes me smile and give thanks every time.



You can easily find a spot just for you somewhere along this beach. Sure you have to walk a bit to get to the water, but big deal. What's wrong with participating in some low-level physical activity before you find a nice area to open your cooler, open your book, and nod off for a snooze?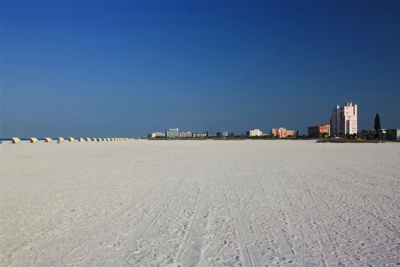 To top things off, you can walk to several great beach bars all along the island. They not only have ice cold drinks, the food is good too. It really doesn't get any better than this.
Here's another plus...if you are staying over in beautiful St. Petersburg FL, all you have to do is get on Central Avenue and head west. It dead ends right on Gulf Blvd (the main north-south road along the Gulf Beaches.) What could be easier?


Keeping the beaches clean on Treasure Island


Public Access to Treasure Island Beaches


The Quietness of Sunset Vista Beach


Stay at a Treasure Island Resort


You can have a romantic Florida beach wedding at Treasure Island Pavilion


Best Beach Bars on Treasure Island


Treasure Island Nightlife


Shopping and Dining at Johns Pass Village


Do I have to worry about Stingray Season on Treasure Island Beach?


How do locals name the Treasure Island beaches?


Go to Florida Beach Lifestyle home from Treasure Island Fl Beaches page