Florida beach rentals do not have to take all of your money
You can find Florida beach rentals at a discount. The top Florida beaches are much more enjoyable when you save money on your vacation.
Your biggest expense, once your reach your beach destination, will be the sum involved in getting quality accommodations. If you can save some money, here, you will be able to enjoy more experiences at unique little beach bars or waterfront restaurants.
Rentals on the Florida beaches have taken a hard hit since the middle of 2008. Not as many people are traveling because they have cutback in their family budget. This can work in your favor.
Hotels, motels, apartments and condos have seen a sharp decline in bookings and profits. Management has become much more flexible in extending discounts to customers seeking cheap Florida beach vacations.



Florida beach rentals can be had more cheaply with good planning




The first thing you want to do when seeking accommodations is to decide how close you want to be to the beach. Do you want a room opening right onto sugary white sand? Is it okay to be a few floors up? Is it okay to be across the street from the ocean or even a street or two away? How close do you want places like a grocery, souvenir shops, waterfront dining, or even miniature golf?
* What kind of amenities do you really have to have? Is it necessary for there to be a pool on the property? Do you need a small kitchen or will a microwave stacked on a small frig be enough for you?
* Call several different places to stay, get the basic rates, and ask solid questions about what sets that particular place apart from others close by. Take specific notes. Don't trust things to your memory. After calling four or five different places, information can easily get muddled. (Well, at least for me. You might be a lot sharper.)



Negotiation is the name of the game in getting discounted Florida beach rentals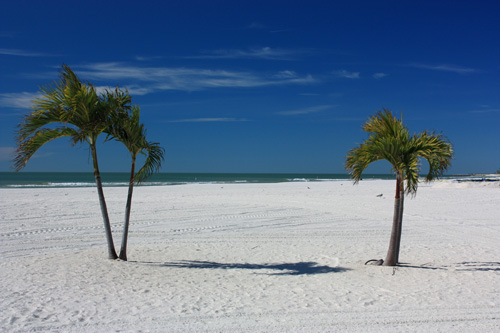 * Once you have a list of different places to stay during your Florida beach vacation, you are ready to start negotiating with management.
* Shoot for a discount of 15%. Even though hotels and motels are hurting right now, please do not think they will cut prices in half just to get your business. That will not happen.
* Always, ALWAYS...keep your negotiations good-natured and light-hearted. If you try to come across as an IRS auditor or Wall Street Alpha Male wannabe, you will shoot down any chance of a deal.
* Saying something along the lines of "I really want to stay at your place, but I don't want to spend my entire vacation budget on lodging. Can we discuss a price range for my week's stay?"
* You can start at a 20% discount, but most management people will balk. Keep in mind, if you get a 15% reduction on a $1000 initial quote, that is an extra $150 you can spend at several little beach bars. That can go a long ways during Happy Hour!



Nail down solid information on Florida beach rentals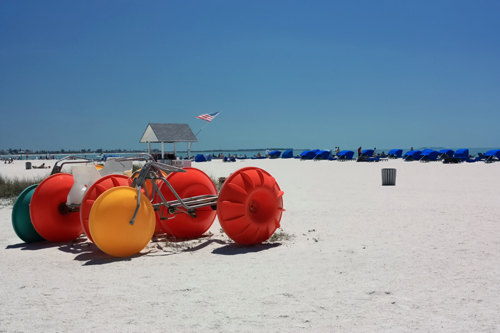 * Instead of negotiating price, maybe you want to upgrade to a room right by the beach. Make sure you know what you are getting so there are no embarrassing or tense moments once you arrive.
* Words like "beach front",and "beach view" can be interpreted differently. "Beach front" normally means you will have one or more rooms facing sugary Florida beach sand. (A side widow looking out DOES NOT count.) A "beach view" means you can see the beach...but find out if it is at a steep angle...or from across the courtyard...or even from across the street!
* If you only take one thing away from this page, please know there is NO place for anger, threats, snide remarks or condescending tones in negotiations. Talk with humor and talk with class. Continual comments like "That sounds like a great point" or "I appreciate you being so easy to work with" go a long ways.
* Some management personnel in Florida beach rentals will not want to negotiate much at all. There is no need to be a smart-aleck or say something stupid if your request is turned down. Be positive and courteous, you may end up staying at that place!
I wish you much good luck as you plan your cheap Florida beach vacations. The top Florida beaches along the Gulf Coast have many places that are open to giving you a discount.



Go to Florida Beach Lifestyle home page from Florida Beach Rentals page


Experience John's Pass Village on your Florida beach vacation