Sloppy Joe's Sand Sculpture - Treasure Island FL
The sand art at Sloppy Joe's is commissioned each spring
The Sloppy Joe's sand sculpture is a major attraction at the popular Treasure Island bar. This sand sculpture, at Sloppy Joe's Bar, was created by Dan Doubleday and Meredith Corson of Sanding Ovations.
Each spring, the owners of the bar commission Sanding Ovations to create a piece of sand art for the enjoyment of both visitors and locals.
This piece, called "Music Man" was sculpted from March 8, 2010 - March 14, 2010. It took a total of 110 man hours, and used approximately 30 tons of trucked in sand.
The sand artists, Dan Doubleday and Meredith Corson are both residents of Treasure Island FL.
They have over 40 combined years as sand artists and have won 17 World Champion medals. Dan won the Sanding Ovations Sand Sculpture Contest here, in November 2009.




Some facts about the Sloppy Joe's sand sculpture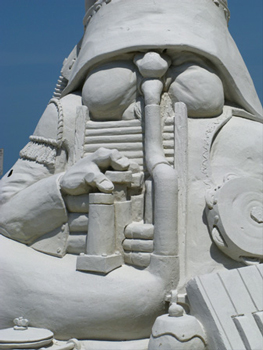 * There is no infrastructure inside the Sloppy Joe's sand art. It was created solely from sand and water.
* The artists use basic household tools to create sand sculptures like this. Trowels, shovels, and stiff paint brushes are their main ones.
* The Florida beach sun dries out the sculpture and the wind wears it away. Because of this, the sand artists spray the piece with a solution of water-diluted school glue.
* This solution is NOT waterproof, but it does slow down the erosion process a great deal.
* The artists said if this piece was housed indoors, or the weather was continually overcast, they would not have any need to treat it.
* Amazingly, the artists say that rain does not actually harm the sand sculpture because it will just soak it up, much like a large houseplant or sponge.
* However, hard, pelting rain will make pit marks in the piece and the intricate detail will be lost quickly.
The sand sculpture at Sloppy Joe's will stay up until Saturday, May 16, 2010 and then the fence will be removed. Because there is so much curiosity about touching something like this, it accelerates the erosion. Dan and Meredith plan it this way.




A short pictorial essay of the Sloppy Joe's sand sculpture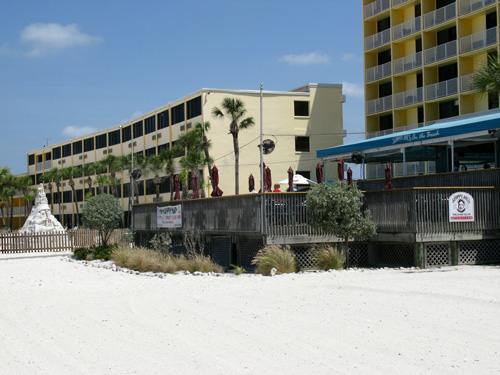 You can easily see the sculpture from the beach. It is right next to the Treasure Island BeachTrail at the Bilmar Beach Resort.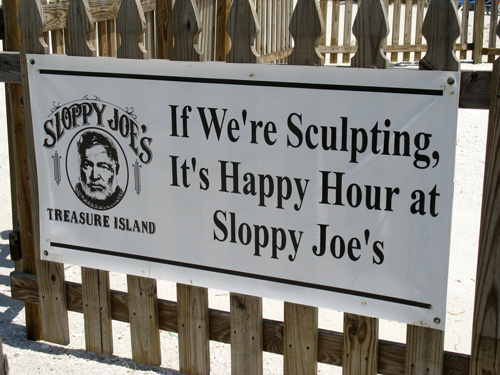 Well, this pretty much lets you know the working hours.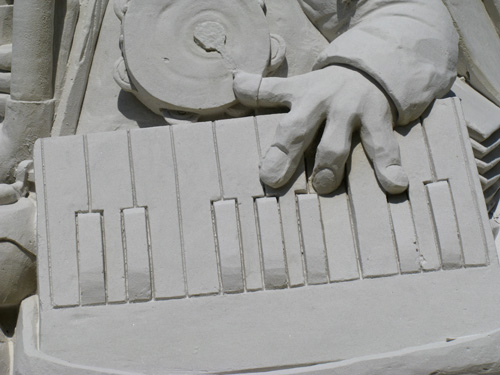 Here is some of the exacting detail that Dan and Meredith are known for.




However, the detail at the top of "Music Man" is even more finite.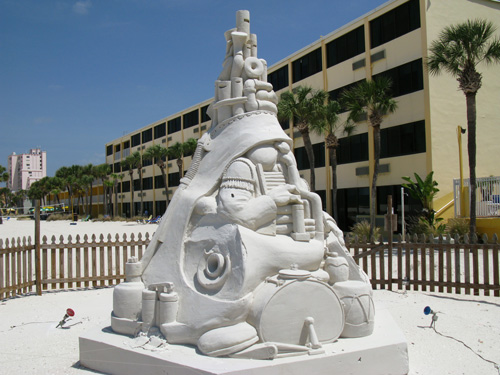 There is some slight erosion taking place on the side of "Music Man." Once the process starts, even the glue spray cannot protect the piece.

Dan and Meredith will be back again March 7 - March 13, 2011. The next Sanding Ovations Sand Sculpture Contest will take place, right here, November 18-20, 2010.


Learn more at the Sanding Ovations official site.


Would you like to retire in Florida like I did?


Go to Florida Beach home from Sloppy Joe's Sand Sculptures page