Indian Rocks Beach nightlife rocks at My Place and JD's
Indian Rocks Beach nightlife is compressed in a 100 yard span that includes two restaurants/bars on the east side of Gulf Blvd.
I'm sure you read that opening sentence and thought, "What is this guy trying to pull?" Trust me, this is where the locals come to eat quality food, relax with a cold one while hearing good music, and dance into the night.
Indian Rocks Beach is not only the last bastion of free parking for public beach access but it is also the lightning rod for nightlife north of St. Pete Beach .
Both locals and visitors cross and re-cross the street/parking lot between these two establishments to dance, relax with friends and hear different kinds of music. Indian Rocks Beach nightlife may be compressed in a small area, but it makes up for it in fun and good times.


My Place on the Beach


My Place on the Beach is one of our main spots for dinner and dancing.
It has undergone some changes in the past year, but the food and entertainment keeps bringing us back.
It is almost like having your pick of three different venues to eat.


There is a large outside patio where you can enjoy beautiful Florida evenings and the breeze off the Gulf Intercoastal Waterway.
It has subdued lighting and live entertainment.
There is a concrete dance floor in front of the small stage up front. It is large enough for a good number of couples, but the surface is hard to turn/spin on if you are doing a lot of West Coast Swing.
We really enjoy the food, especially the various wraps and sandwiches. They make them so huge that we end up splitting one. They used to have some outstanding pizza, but had stopped making it the last time we were there. Hopefully, the new management will bring it back.
There is an outdoors side to the bar as well as an indoor dining area. This section is mainly frequented by people who enjoy watching one of the many large-screen plasma TV's. There are booths as well as bar seating inside.
Finally, there is a beautiful formal dining area farther inside. It is much more quiet and romantic in there. The lighting sets a nice mood and another bar is connected. This is the softer side of Indian Rocks Beach nightlife.
A DJ or live entertainment provides the music for inside dancing on a nice wood floor.
Dress for My Place runs from beach casual to dressy casual. You'll see men in Aloha shirts and Dockers, with a woman in a short black evening dress on the dance floor.
One last amenity...designer restrooms.
Location: 213 Gulf Blvd - Indian Rocks Beach, FL 33785-2535
Phone: 727-593-7040


If you feel like you want a change of venue...well, just head out the front door and turn left (South). A few steps will bring you to...



JD's Restaurant and Lounge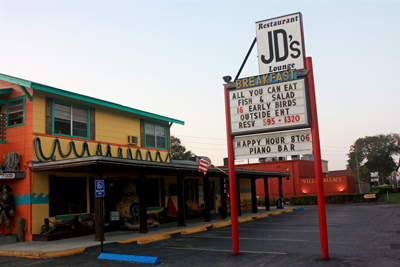 If Indian Rocks Beach nightlife has a middle name...it's JD's.
This friendly restaurant and bar is high-energy.
Located right on the Gulf Intercoastal Waterway, it is no big deal for several couples to pull up in a boat and start dancing on the outside patio before they even order.
It opens at 8:00am for breakfast and draws a different base crowd than My Place. You'll see a lot more families with children, whom all seem to love the Specialty of the House...fried pickles.
Steaks and seafood are the main menu items, and locals have been coming to this family-owned establishment for 20 years. It is surprising that some of the regulars do have have a gold personalized parking space. The prices are very reasonable and the food is great. So is the service.
JD's also boasts "The Best Burgers on the Beach" and they go all out to maintain this title.
Outside, the music is thumping and the dancing is almost aerobic. This is Indian Rocks Beach nightlife in overdrive.
Inside, there is a piano bar where the older crowd dances more Cha Cha, Fox Trot, and West Coast.
Dress on the "Back Porch" is far more casual than My Place, although those dancing at the piano bar inside will look classy. Some men wear sports coats and ladies will have on nice evening wear.

Location: 125 Gulf Blvd - Indian Rocks Beach, FL 33785-2529
Phone: 727-595-1320

Go to JD's official website from the Indian Rocks Beach nightlife page

After spending the day on beautiful Indian Rocks Beach, give these two places a try. The weekends really pull in a nice crowd at each. Call ahead for reservations or get there early for dinner outside.



Get rid of belly fat - Look more attractive when you are out


Go to Florida Beach Lifestyle Home Page


Living in Paradise - The Florida Beach Life


More about Indian Rocks Beach FL


There is plenty of beach access on Indian Rocks for a moonlight walk