First Nice Day To Run On The Beach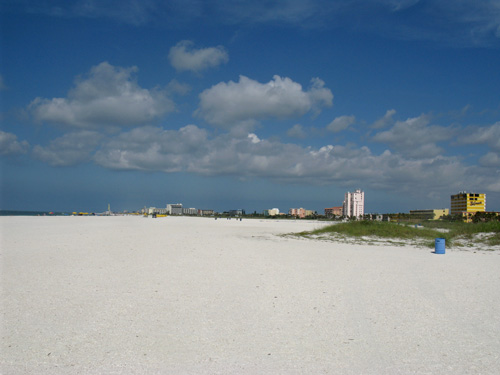 The first nice day to run on the beach finally got here on Wednesday (October 10th). We had been waiting all summer for the humidity to break. Finally, sunny, cool, and drier days are ahead.
It has been a long pull, this summer. Even though we love living here in Paradise, the high humidity on (80%+) on Treasure Island Beach can wear you down if you enjoy training at a high level.
* As you can see in the above picture, there are still some puffy, moisture-filled clouds present, so we are not totally out of the woods, yet...but great days are coming to Paradise.

Running anywhere on the Florida beaches takes a whole different mindset during the summer months.
Most of us get up very early, and try to get on the beach at first light.
This is especially important if you have to run at high tide. The soft sand is much more difficult to negotiate than the harder shoreline, and it is easy to misstep.
If children have been digging huge holes before sunset of the previous night...well, that makes it even more of a sport.
With the high humidity, you just have to tell yourself you are going to be real warm, and your running clothes...and shoes...will probably be soaked in sweat after the first mile.
During this time of year, we normally decrease our mileage by about 2/3's and do not run near as many long intervals.
Tabata intervals (20 seconds hard - 10 seconds recovery through eight sets) are utilized more frequently than in the cooler months.

First Nice Day To Run On The Beach
When I walked outside, on Wednesday morning, I felt like I wanted to start sprinting immediately. The humidity had dropped considerably, and there was a gentle breeze that made things feel even cooler.
We actually decided to run at 8:30am...just to see what it was like. All of were in a great mood, and there was a lot of joking and high spirits.
We started at the free parking lot on Gulf Blvd and 103rd Avenue, and cruised south at about a 10-minute pace to Caddy's Beach Bar.
From here, we started some faster 2-minute intervals (about 400m on hard-packed shoreline sand) with a two minute easy jog, in-between.
We did that all the way down to the jetty at Blind Pass.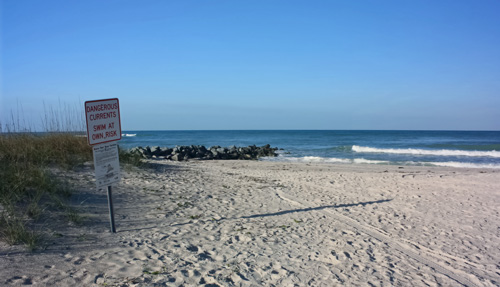 Once here, we did a set of "Max Push-Ups" -- everybody tries to hit 50. Then, it was an easy run back to the showers at Gulf View Park.
Total distance, a little over 3.0 miles.
By the time we got back, a lot more people had made their way down to the beach, and we getting into the spirit of a nice Fall day in Paradise.

First Nice Day To Run On The Beach - Pictures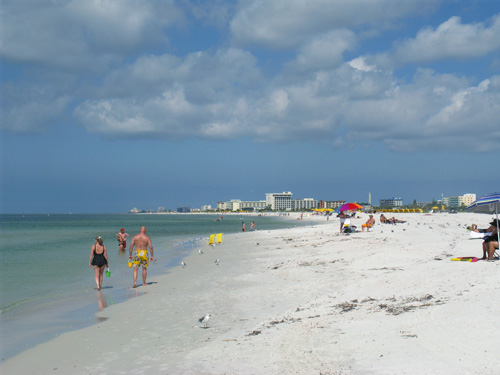 At this time of year, there are not many visitors, although the ones here, now, are mostly from foreign countries. The big influx of "SnowBirds" starts right after Christmas. This is when the Florida Gulf Beaches get popular with our friends from the Northeast and Canada.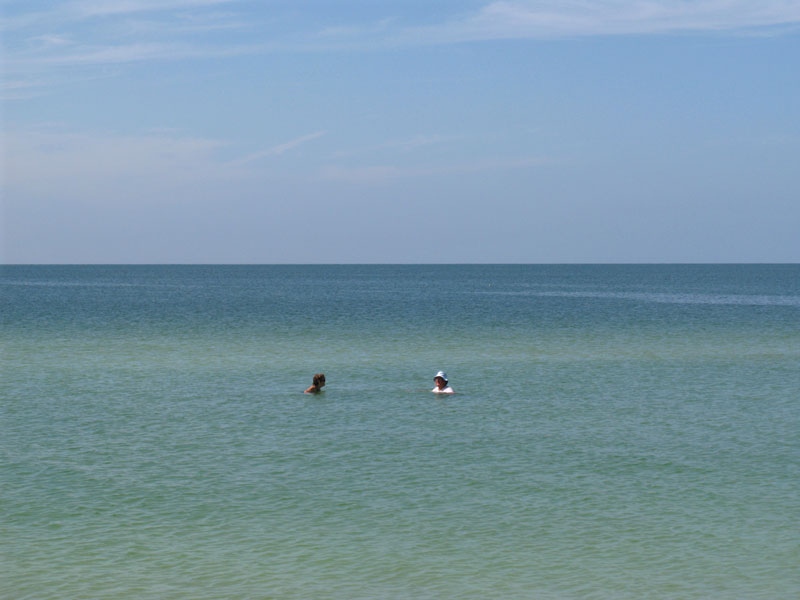 Here is couple enjoying the lazy, tranquil morning out in the Gulf. You can understand why we love the laid back Florida beach lifestyle.

Visitors love to fish right off the beach. This gentleman is about 70m off-shore.

First Nice Day To Run On The Beach
We have been impatiently waiting for this time of year. Now we can get down to some serious training. The big thing, of course, is not to get so jacked-up that we increase our mileage and hard intervals, too quickly.
Trust me, the first nice day to run on the beach really makes us thankful to live the Florida beach lifestyle here in Paradise.
Go to Florida Beach Life home from First Nice Day To Run On The Beach page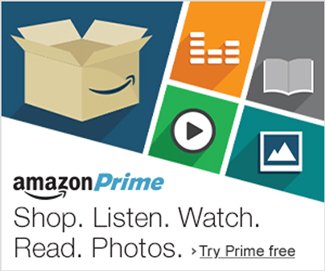 As an Amazon Associate I earn a small commission from qualifying purchases.