Clear Sky Beachside Cafe - Clearwater Beach, FL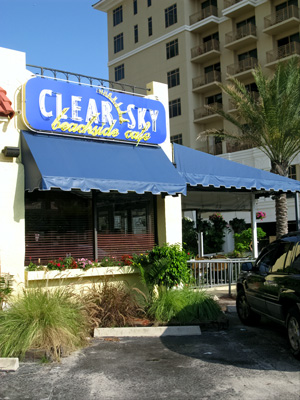 We went to Clear Sky Beachside Cafe for breakfast last Sunday. This is one of our favorite places to eat on Clearwater Beach. We split the Left Coast Omlette.
The meal was outstanding, but we were not used to sitting on the outside patio with the plastic window enclosures pulled down. We were amazed at how loud this little area sounded. We had never experienced this in all of our other breakfasts here.
Normally, when we come here on cool spring mornings or even in the humid summer months, the conversations around us are quiet...a lot more subdued.
Also, for some reason, the sound system was playing loudly. My guess is everyone was trying to talk over the music. We really noticed the decibel level when we went back out to the parking lot before heading down to Clearwater Beach for a walk.
We are hoping this was just a one-time aberration for Clear Sky Cafe. We love the food, the reasonable prices, and the intimate patio setting. It would be tough to give this up because of the noise level.



Clear Sky Beachside Cafe is a great place to have breakfast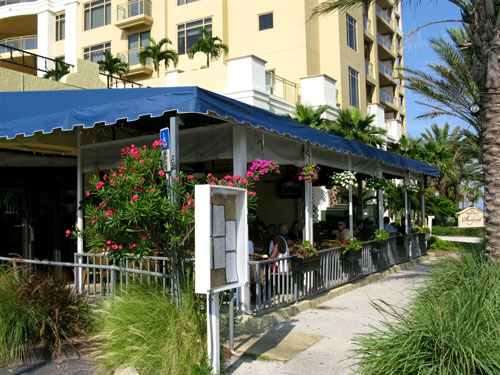 Normally, this is what Clear Sky Cafe looks like on a sunny spring day. Although it was 65 degrees, clear and sunny when we pulled in, the humidity was much lower...and the breeze from the Gulf must have made management think the customers would be chilly.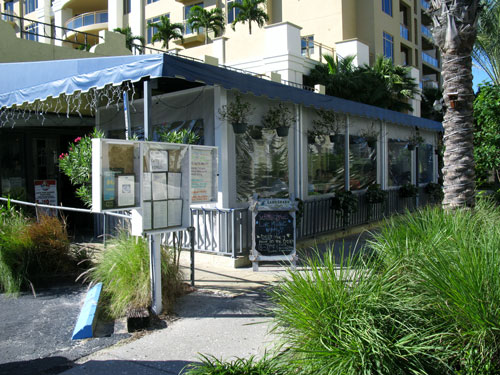 This is what we found...all of the thick plastic window shades were pulled down. It looked like something out of a science fiction movie.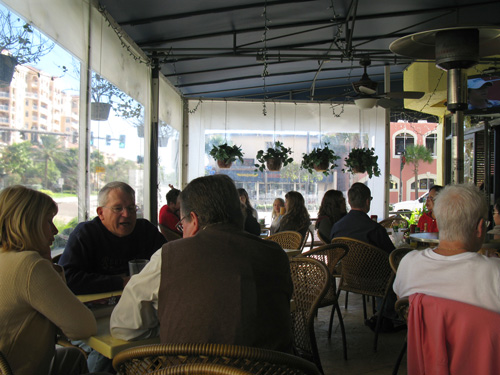 The outside patio had more customers than we normally see, but then this is the time of year when visitors wanting a quiet Florida beach vacation start coming in ernest. We really noticed the noise level with the plastic enclosures.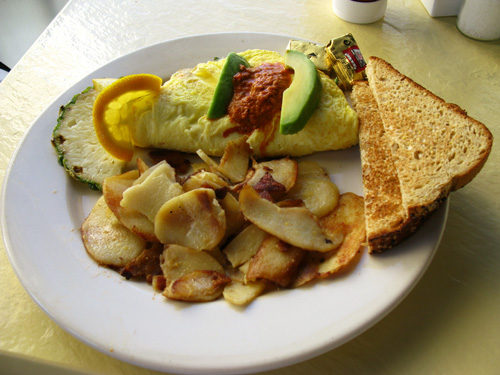 We didn't think much of it at first because we were intent on getting into the Clear Sky Beachside Cafe menu for one of the thirteen different 3-egg omlettes. We opted for "The Left Coast"...a combination of avocados, artichokes, mushrooms, tomatoes, Monterey Jack cheese, and their special Ranchero sauce. It comes with a couple of fruit slices, seasoned home fried potatoes, and toast. (We split it and got stuffed for $8.95)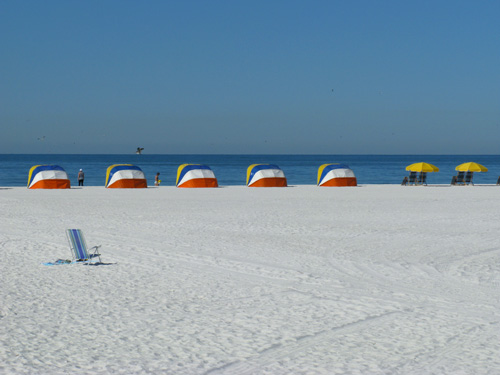 After such a great and filling breakfast, my girlfriend and I took a walk out back on Clearwater Beach. The change in noise level was easily noticeable. We were glad for the quiet time together.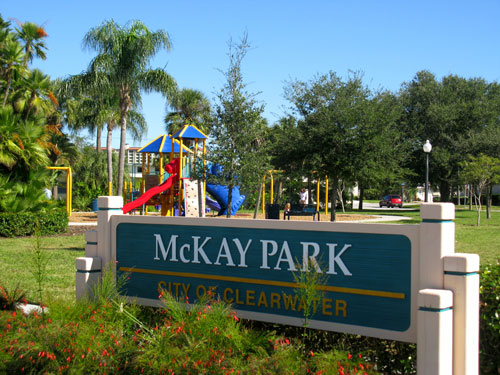 One last nice aspect of breakfast at Clear Sky Beachside Cafe is its closeness to the Clearwater Recreation Complex at McKay Park. We had our tennis racquets packed in my truck and were able to get in a solid 45 minutes of practice on this beautiful, cool, winter Florida beach day.

It really doesn't get any better.

PS After we played, we noticed the plastic shades were raised and everyone seemed to be enjoying themselves. We love this place.



Clear Sky Beachside Cafe - Official website


Go to Florida Beach Lifestyle home page