Get married at Sunset Beach Pavilion - You can have a cheap beach wedding on Treasure Island FL
Many young couples want to get married at Sunset Beach Pavilion on Treasure Island FL. You can have a cheap beach wedding here, but you must adhere to the city policies.
Wait a minute...adhere to the policies of the City of Treasure Island FL ?
How tough can that be...it's just a wedding, right?
First, it is my guess that the couple getting married sees this experience as something a bit more than "just another beach wedding."
Secondly, there have actually been instances where neighbors across from Sunset Beach Pavilion have had to contact the police because things got out of hand in this romantic little setting.
It is almost embarrassing to read that, isn't it? Below, I'll provide you with a few of the former rules and regulations. They may have changed again by the time you read this, but you will sign an agreement with the new ones in place.



To get married at Sunset Beach Pavilion, there will be expectations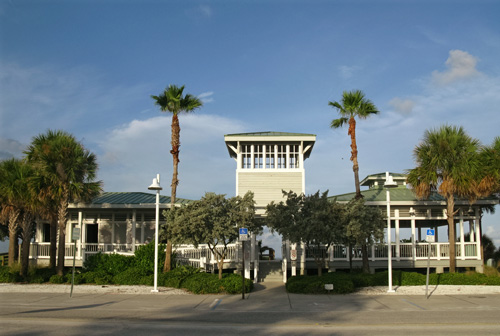 * Only battery operated radios will be permitted in Sunset Beach Pavilion. You cannot have public address systems, bands or disc jockeys using amplified instruments or microphones. (There is no electricity in the pavilion anyhow.)
* The family must notify the Recreation Office at time of rental regarding types of non-amplified instruments to be used during event.
* There can be no use of extension cords.
* No smoking, no glass, and no pets are allowed on the park property.
* No confetti, rice or birdseed can be thrown on the City property.
* Rental of Beach Pavilion is for covered picnic area, only and does not include the use of the beach. There may be people visiting the beach who could mingle with your wedding party.



To get married at Sunset Beach Pavilion means inviting responsible guests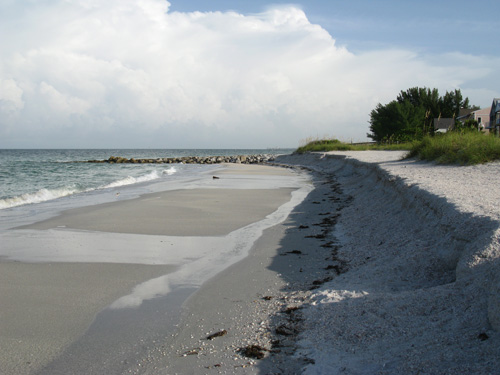 You can have a beautiful and cheap beach wedding at Sunset Beach Pavilion...but you will need help from those you invite. Make sure you invite friends who are mature and act responsibly.
For instance, out in back of the pavilion is a five foot drop off to the water. You do not want drunk fraternity brothers falling off of here and breaking something.
It is part of the Rules and Regulations that children will be supervised at all times. Something like this is naturally attractive to youngsters. It might be better to put "Please, no children" in your announcements.
There is no way one person can keep track of kids running up to or along this dropoff. Why put your wedding at risk?
A Florida beach wedding can be wonderful and memorable to all attending. You can easily have a cheap beach wedding, but everything must be well-thought out.
This statement has been included in past Rules and Regulations to get married at Sunset Beach Pavilion. It will be good for you to look over as you plan for your wedding.


********
"All inquiries for permits or explanation of the city's governing regulations should be made to the Community Improvement Department at least sixty (60) days in advance of scheduled event. The Community Improvement Department may require applicant to make application to the City Commission for approval. Applicant will be required to be in attendance at the scheduled Commission Meeting to speak on their request/behalf."

********
Get cheap beach wedding flowers ideas
Go to home page from Get Married At Sunset Beach pavilion


You can learn how to plan a cheap Florida beach wedding