Rejuvenate Your Skin With Homemade Moisturizers
Soften your skin naturally with homemade skincare products
Homemade moisturizers can be easily created in your own kitchen. Use natural skincare recipes for your homemade beauty products to soften skin and prevent wrinkles.
Women today are gravitating more toward homemade skincare products. And why not?
Chemically-based synthetic anti-aging creams have been found to cause irritation, allergic reactions...and some just plain do NOT work.
Although cosmetic companies advertise their skincare lines as "natural"...would you actually eat their products? Sadly, they cannot get away from including preservatives and chemical enhancements to extend shelf-life in their retail outlets.
Using simple homemade skincare recipes, women here on the Florida beach are entirely able to decide exactly what ingredients they want in natural moisturizers and face creams.




Homemade moisturizers help soften your skin and prevent wrinkles
Maintaining baby-soft, youthful skin on the Florida Gulf Beaches is made much easier due to the prevalence of homemade natural moisturizers.
The women who are part of our group get together regularly to create body lotions and homemade face cream to combat the effects of wind, sun, and seawater.
* Natural means you can eat it, right? And whatever you put in your mouth must be safe.
* Petroleum-based cosmetics simply CANNOT compete with the skin softening effects from milk, honey, and olive oil.
* The anti-oxidants found in strawberries, kiwi fruit, and blue berries far outdistance the preservatives found in moisturizers purchased in a store.
* The skin-drying effects of alcohol is just NOT found in homemade moisturizers created with ingredients like macademia oil, active manuka honey and natural vitamin E.
* Natural substances both soften and protect your skin from the skin-aging effects of free radicals.
* Many of the women here have started using Rosehip Seed Oil along with apricot oil, avocados, and papaya to remove age spots, prevent wrinkles, and soften crow's feet.
Holistic, natural skin treatments start with YOU. The commitment to organic bodycare, natural moisturizers, and homemade skincare products is making sense to more women each day.




Learn the best recipes for homemade moisturizers that revitalize your skin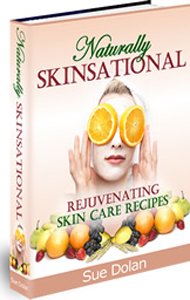 Naturally Skinsational is the best-selling book of homemade skincare recipes by Sue Dolan.
* Sue's book was reviewed by Fox News, who then invited her for a special segment demonstrating how easy it is to create skin-softening and anti-aging moisturizers and lotions in your own home.
* She provides 150 recipes for homemade skincare products that help prevent wrinkles and renourish skin that has been aged by cosmetics.
* Sue's compilation comes as a downloadable eBook so that you can start creating natural moisturizers and face cream immediately.
* It is inexpensive and comes with an 8-week, 100% refund guarantee.
* Now you too can control EXACTLY what ingredients you want in a natural moisturizer and custom-tailor it to your skin type.
Say goodbye to petroleum-based and chemically-enhanced creams that include skin-drying alcohol.
If you have been thinking about the benefits of homemade organic moisturizers, but could not find good recipes, Sue's best-selling Naturally Skinsational may be exactly what you are looking for.


Go to Beach Skincare from our Homemade Moisturizers page


Are you a woman who has been thinking of starting her own online home business?


Go to Florida Beach home from Homemade Moisturizers page