Treasure Island Open Air Market
A cheap Florida beach vacation event on Treasure Island, FL
I went to the Treasure Island Open Air Market this morning. It was a low-key event in Treasure Island, FL and definitely an interesting venue for a cheap Florida beach vacation.
I had seen the sign announcing this community event a couple of days before when I was down here taking pictures at the beach and enjoying breakfast at Caddy's.
It was held at the Treasure Island Community Center and I was surprised at the number of cars already there when I arrived.
Our visitors from Canada, Michigan, and New York have become pretty expert on finding interesting experiences for their cheap Florida vacation.
The booths were laid out north-south on the big playground/park area out back. There were tables for jewelery, art, and memorabilia...as well tables for hardware, food, produce, and some things that looked like leftovers from a church bazaar.



The Treasure Island Open Air Market is well-received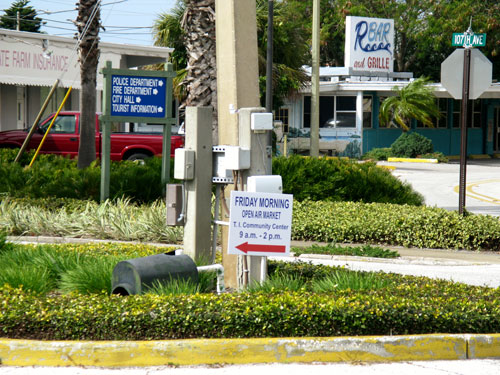 This little sign tipped me off to the Open Air Market a few days before. These were placed in several strategic places along 107th Avenue.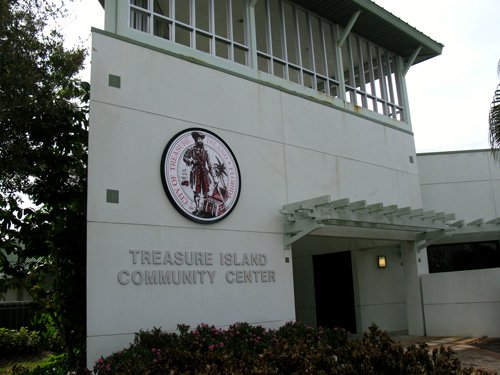 The Treasure Island Community Center is pretty easy to find. At 1 Park Place & 106th Avenue, it is just south of the "downtown" area.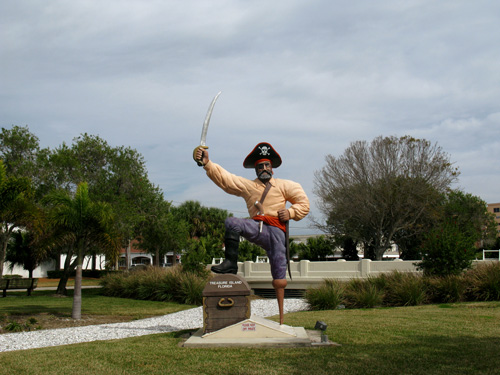 The giant pirate at the north end of the playground is a great landmark.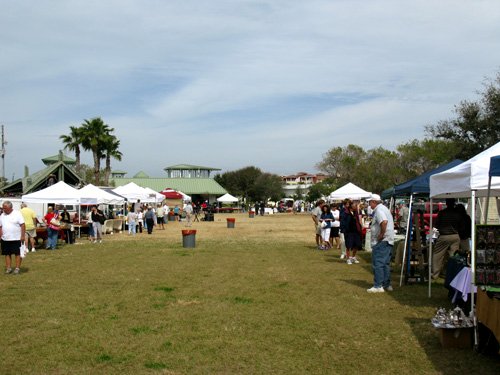 The vendor tables lined both sides of the lawn and people were already examining the curious and interesting articles for sale.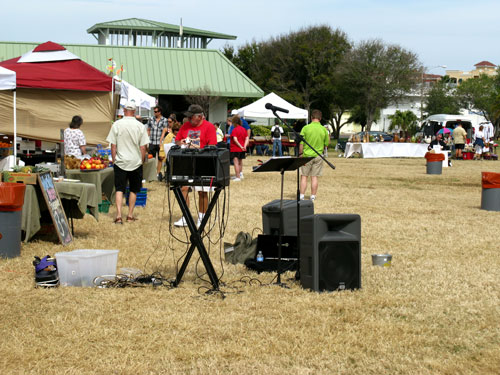 A karaoke machine was clearly visible, but no one was participating...yet. A CD of 60's and 70's songs was playing and lots of people seemed to be singing along as they shopped.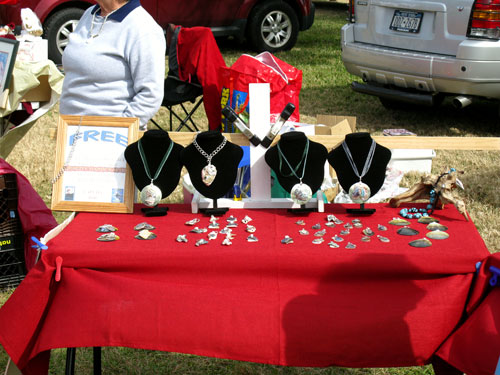 This bright red table of large jewelery caught my eye first. I don't know how many sales they made, but the way it was laid out certainly was a draw to the shoppers.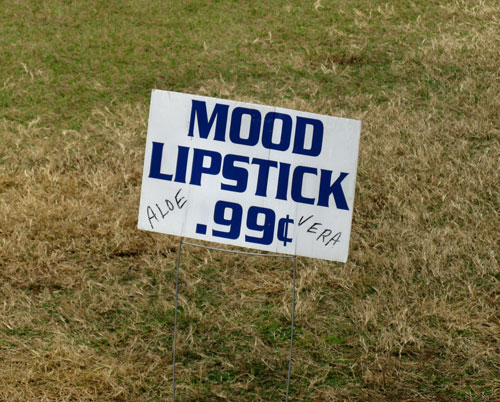 This "Mood Lipstick" sign caught my eye about the same time. My girlfriend wasn't with me, but I know she would have wanted to see what THAT was all about. To me, it was better just left alone.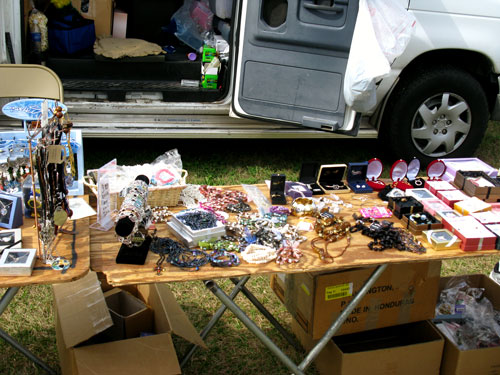 There were several tables, though, that had a hodge-podge of what looked like costume jewelery. I guess it sells real well. How women have the patience to look through it, though, is beyond me.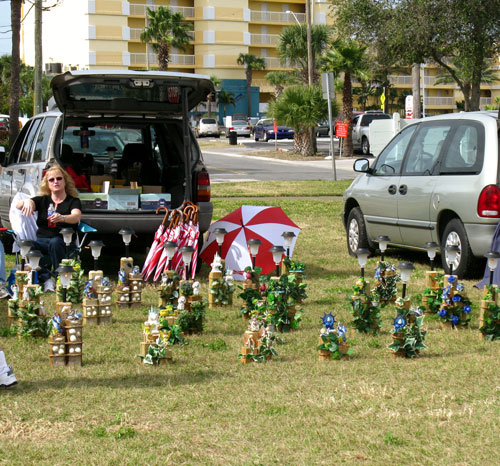 Another table was selling lawn ornaments. It looked like a great deal of time had been put into crafting them.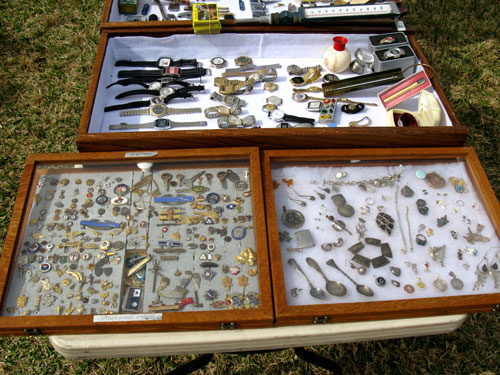 The table selling memorabilia interested me, but there was always a crowd around the items and I couldn't get as good a look as I wanted.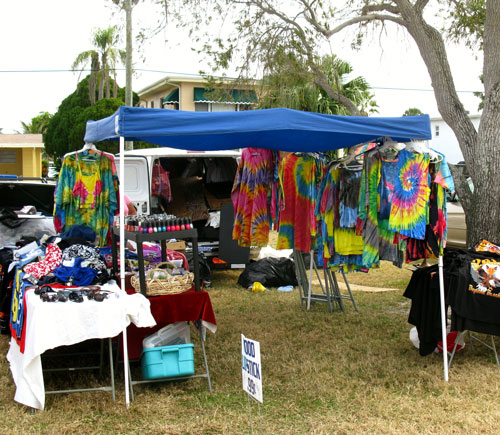 How could the Treasure Island Open Air Market be legit without selling colorful tie-dyed shirts, wrap-around sunglasses, and motorcycle/whiskey logo caps? I mean...this is where it all started, right?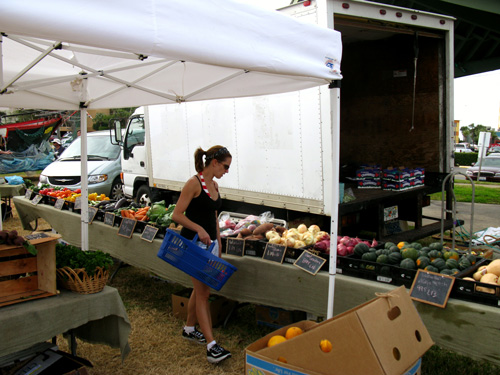 The produce stand was probably the biggest draw for us locals. The prices were good and the fruits and vegetables looked beautiful.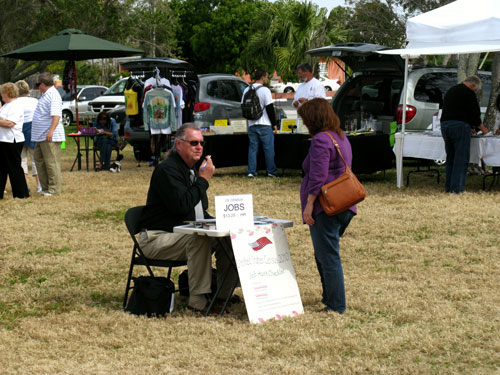 As I was leaving the Treasure Island Open Air Market, I noticed a small table offering Census Bureau jobs for $13.25 an hour. It was completely unexpected, but good insight on their part. He seemed to be getting some interest, also.

I was glad I came. The day was cool and I got to talk to a lot of nice people. Most were visitors trying to immerse themselves in the Florida beach lifestyle, and seemed to be enjoying themselves while doing it.


Go to Florida Beach Lifestyle home from Treasure Island Open Air Market


Go to Treasure Island Beaches page from Treasure Island Open Air Market