Natural Skin Moisturizers For Beach Skincare
Natural anti-aging cream and treatments are critical to beach skincare
Natural skin moisturizers from homemade skincare recipes are used almost exclusively here on the Florida beaches by women in the know. They can make a natural anti-aging cream for less than a dollar.
The women in our group here on the laid-back Florida Gulf Beaches have beautiful deep bronze tans, but their skin is as clear and elastic as a baby's.
Skin moisturizers are the most used and prescribed products used in the cosmetic industry, but skincare companies fail to disclose many of the adverse side effects associated with them.
Chemical agents in facial creams and body lotions advertised to provide youthful skin and prevent wrinkles actually cause dryness, itching, redness...and worst of all, skin aging.
If you look at the ingredients on many of the leading skincare products, you'll be shocked the first ones listed are usually some form of alcohol, artificial colors, and petroleum-based compounds.
These ingredients actually TAKE more vitality from your skin instead of enhancing it. How can things be more backward?




Natural Skin Moisturizers Prevent Skin Aging On The Florida Beach
It is understandable that female visitors on a Florida beach vacation want to return home with a beautiful bronze tan, yet that sun exposure does not need to keep them from maintaining youthful skin.
The women in our group vehemently endorse natural homemade anti-aging creams to retain vitality and elasticity for their skin.
First, it saves them huge amounts of money. When cosmetic companies add "natural" ingredients, which cost very little at the grocery store, they jack up the price several dollars.
Why should a woman put up with that nonsense? That is robbery...plus, their products STILL contain chemicals that do nothing to prevent wrinkles or reduce age spots.
Secondly, they actually enjoy getting together and creating these natural skin moisturizers. They have fun and give them exotic names like "Tropical Facial Vitality" and "No Wrinkles In Paradise."
* Women with particularly dry skin utilize rich oils such as sesame oils and olive oils in their mixtures. (Sesame oil is also utilized as a natural sunscreen.)
* Ladies with oily skin customize their homemade skincare recipes with light oils such as jojoba, avocado, and grapeseed.
* Their natural skin moisturizers include optimal amounts of antioxidants like Vitamin A, C, and E...natural botanical nutrients such as Vitamin A and E...and almond oil.




Naturally Skinsational - the Florida Beach 1st Book of Natural Skin Moisturizers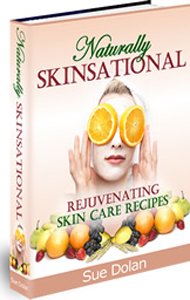 Naturally Skinsational
is the phenomenally best-selling eBook from Sue Dolan that has become the 1st Word of beach skincare.
Fox News called it, "A simply fabulous natural skin care recipe ebook..." and devoted a much-watched segment to Ms. Dolan whipping up both a facial exfoliant and a vitality enriching skin lotion on the program.
It provides 150 homemade skincare recipes for natural anti-aging creams and products such as:
* Facial mask natural recipes
* Facial scrub natural recipes
* Facial mist natural recipes
* Under eye natural treatments
* Rejuvenating anti-aging moisturizers
Homemade skincare is on the uprise because women are tired of spreading petroleum-based and alcohol-enhanced chemicals on their bodies to maintain youthful skin and prevent wrinkles.
Homemade skin moisturizers GIVE BACK to your skin and that is the biggest appeal.


Go to Beach Skincare from Natural Skin Moisturizers page


What is the best anti-aging cream for you?


Have you considered being a Work At Home Mom?


Go to Florida Beach home from Natural Skin Moisturizers page