Beach Shanty Cafe
Breakfast on Clearwater Beach FL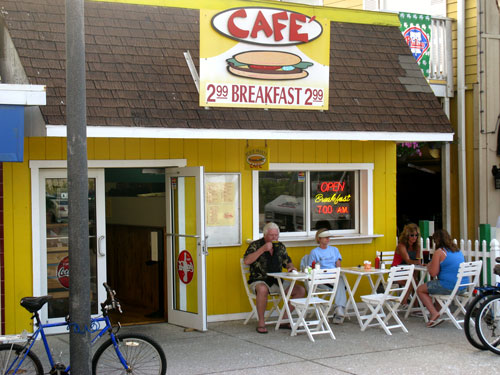 The Beach Shanty Cafe on Clearwater Beach FL is a great little place for breakfast. It opens at 7:00am. If you're a visitor, it sets the day perfectly for a cheap Florida beach vacation.
If you're a local, like us, it sets a relaxing pace for the rest of the morning.
My girlfriend and I biked over here from a little parking lot on the west end of the huge Clearwater Memorial Highway Bridge. (If you decide to do this, you'll have to keep heading west for about 200 yards, then make a U-turn and head back east.)
It was a beautiful and pleasant ride. We were surprised, it only lasted about 15 minutes, so you are not going to get very hot. The pathway on Ream Wilson Trail is very smooth blacktop.
I wanted to start up on top of the Memorial Bridge, but she said it was too scary to ride down it, so we decided to walk up it when we got back.



Biking to the Beach Shanty Cafe




We packed our bikes over to this little parking lot right at the west end of of the Clearwater Memorial Highway Bridge.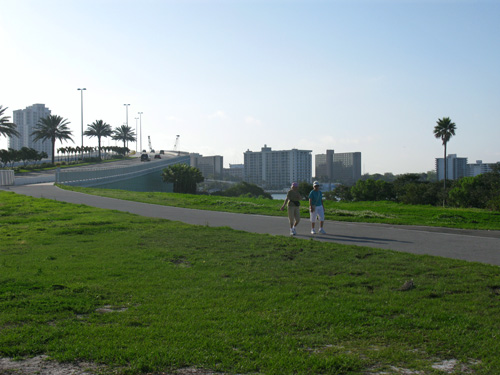 Even though it was early on a Thursday morning, there were walkers, joggers, and other bicyclist out using the trail. Mornings here in Paradise are beautiful.




We started right at a cool sign dedicating the Clearwater Memorial Highway (the west part of State Road 60) to all the men and women who served in the Armed Forces. It was a very fitting recognition for those who fought so we can enjoy the freedom we do here on the Florida beaches.




As you can see, Ream Wilson Trail is smooth and beautifully maintained. Bikes roll soundlessly along here. Talk about a peaceful ride.




The view across Clearwater Municipal Marina to Clearwater Beach looked like something from a postcard. We are always thankful to live in such a beautiful area here on the Florida Gulf Beaches.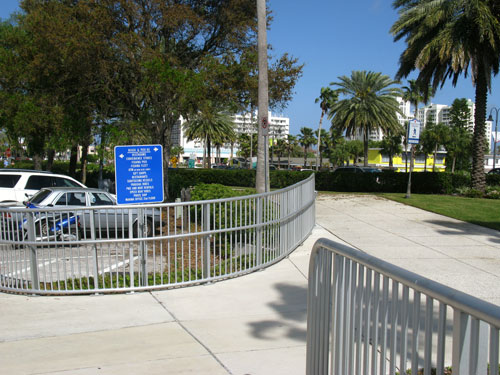 When you come off the small Memorial Highway Causeway Bridge into the Clearwater Municipal Marina area, you can take a sharp right turn to get to the underpass that will let you get away from the heavy traffic of the "round-about" where Coronado Avenue turns into Mandalay Avenue.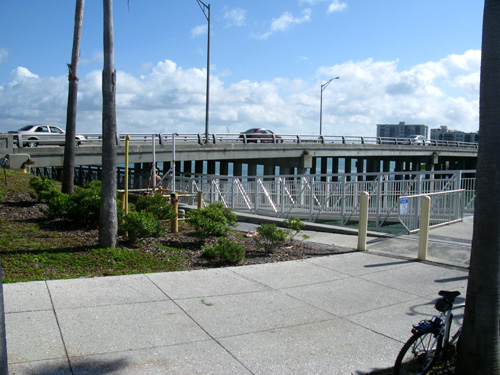 Just go through posts and turn left. This is a great engineering idea by the City of Clearwater. That round-about is dangerous enough to drive on. Getting a bike across it would be a real challenge.




When you come up out of the underpass, you'll be at the intersection of Poinsettia Avenue. This parallels Mandalay Avenue and has about a million LESS cars on it. We headed north on it until we got to Papaya Street, then walked our bikes back south along the sidewalk. To us, it is just too dangerous to ride out on Mandalay. It only took a few minutes to walk back, anyways.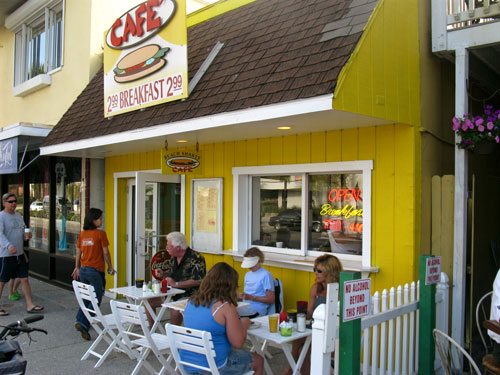 The Beach Shanty Cafe is located at 397 Mandalay Ave Clearwater, FL 33767 (727-443-1616). As you can see, outside seating is definitely at a premium. That's why we come early.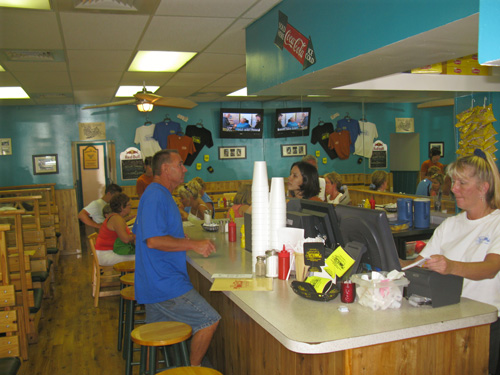 The inside is done in knotty pine flooring with oak booths and tables. A lot of "pattern", but it has an Old Florida feel to it. The kitchen area is very small. You can see the chef work from the outdoor seating. By the time we were halfway through our breakfast, the Beach Shanty Cafe was packed.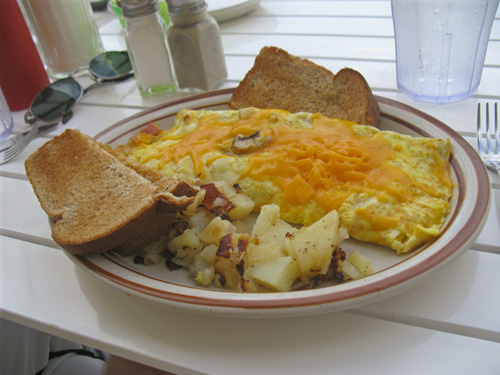 We split the Shanty Omelet, wheat toast, and home fries. It was great. Filled with cheese, mushrooms, tomato, small onions, and bell peppers...we got stuffed.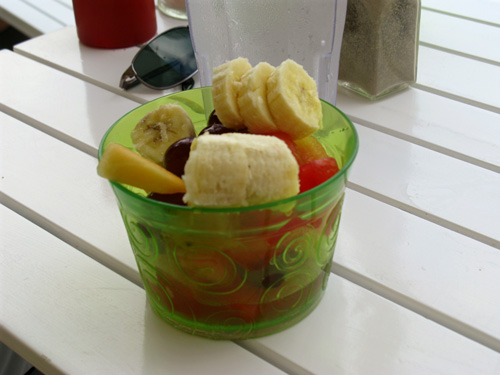 We also ordered the fruit cup and were surprised at how large it was.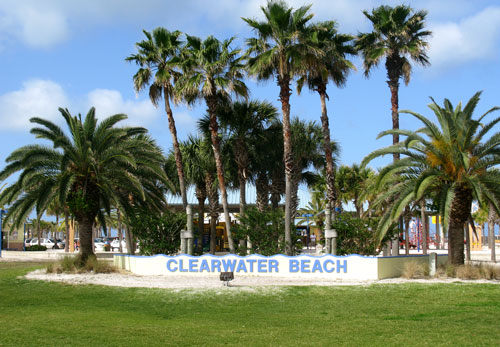 Afterward, we rode our across the street to Clearwater Beach.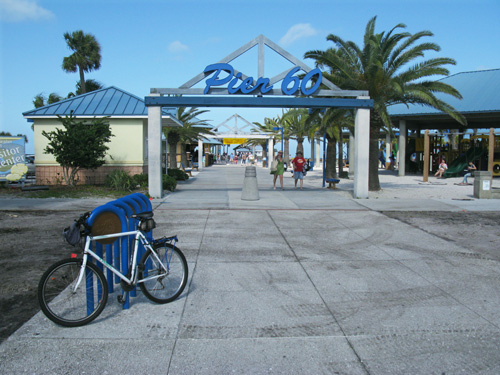 We were hoping we could ride our bikes out on Pier 60, but it is against the City ordinances.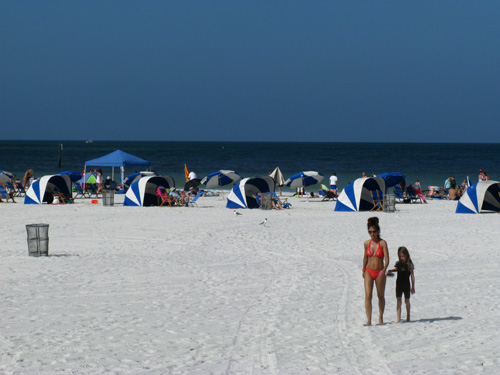 We checked out the view from Pier 60...for about 30 seconds. My girlfriend decided that was enough time to know it had all kinds of attractions...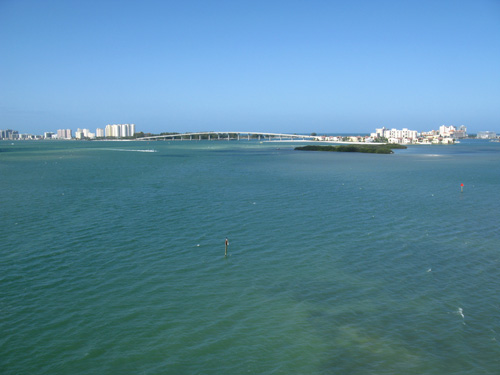 We rode back to the truck, locked up our bikes, then took a walk up the Clearwater Memorial Highway Bridge to get a seagull's eye view of Clearwater Pass off to the west.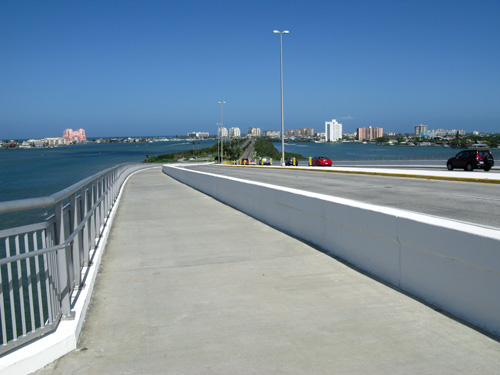 Looking back downhill, I was glad we walked up the bridge because...




...the view we got of Clearwater Beach, across the bay that protects the Municipal Marina was like a painting. It made our ride to have breakfast at the Beach Shanty Cafe all the more memorable.



Go to Clearwater Florida Beaches from Beach Shanty Cafe page


Would you like to retire in Florida like I did?


Go to Florida Beach Lifestyle home from Beach Shanty Cafe page