The Best Travel Writing Tip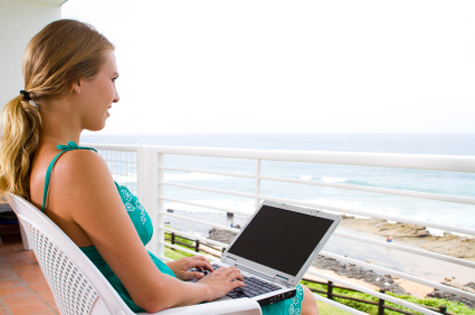 Start your own online home business and kiss editors goodbye
Custom Search
The best travel writing tip I can give you is to start your own online home business. Instead of wondering how to become a travel writer, I now wonder, "How can I make even more money?"

Samuel Johnson once wrote, "No man but a blockhead ever wrote, except for money." and I would have to agree with him.
I know there are more writing purists and idealists out there than me, but my focus has always been..."If I going to write, I want to get paid for it."
Most of us want to become a travel writer because there is a sense of adventure and an acknowledgement of a specific skill set. PLUS...we've heard that the pay for a published article is incredible...not to mention the expense account provided.
The trouble is, travel writing is a pretty tight little fraternity and breaking in can take years...if not a decade. Who has that kind of time to play games?
If you have been receiving one rejection letter after another, if you've waited months for a response to a legitimate query, if you are tired of reading articles on a places you love and thinking, "How did this guy ever get the assignment?"...then maybe you are ready for another approach.




Travel writing tip #1: If you can't join them...beat them
I love the Florida beach lifestyle. I especially love the
Florida Gulf Beaches
where I can spend lazy days in flip-flops and an Aloha shirt.
I knew others would like the setting and activities here in Paradise as much as me, but like you have experienced, I could not get an editor interested in my submissions, and I did NOT want to write just for a byline and a tear-sheet in some obscure little newsletter.
Instead, I decided to learn how to start legit work from home business online...and that one decision has made a huge difference in my life. (Travel writing tip: Look for a better way.)
* I do NOT worry about sending out query letters.
* I do NOT worry about my writing "being good enough."
* I do NOT worry about the photos I take.
* I certainly do NOT worry about editors.
* And...I GET PAID every dang day...and it keeps getting better.
If I can do it, YOU CAN DO IT. Both of my degrees (BS and MS) are in Physical Education. I was a gym teacher. I had no knowledge of either computers or business...but I've learned enough to see there is unlimited potential for travel writing on the Internet.




Travel writing tip #2: Be thankful for the Internet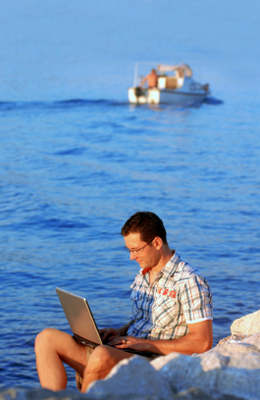 The Internet is the great equalizer. It levels the playing field with guys who have had things all their own way for quite awhile. Once you learn how to target your webpages to the most profitable keywords in your travel niche, your site's popularity will grow as it establishes a web presence through longevity.
Right now...
* I write about only what I want to write about. It can be little beach bars. It can be Easter Brunch at the Hurricane Restaurant on Pass-A-Grille-beach. (Travel writing tip: Write about positive experiences that YOU enjoy.)
* I go where I want to go. No editor is assigning me to some idiotic place or event that does not interest me.
* I stay where I want to stay...and write off my expenses. The tax deductions for a home business save me about $5000 each year. (Travel writing tip: Learn how to document your expenses.)
* I can take as long as I want to publish my work on one of my various sites. I have no deadlines other than those I place on myself.
* My profits online are limited only by my creativity and my own work ethic.
* I can monetize my sites however I want. My earnings are NOT dependent on the budget or graces of a publication. Plus, my webpages keep earning day-after-day.

I hope you can see why the best travel writing tip I can give you is to learn how to start an online business and use your expressive skills to make money.
I was fortunate to find SiteSell/Solo Build It! to help me get started. Hopefully, it will help you make money off your travel writing also. (Travel writing tip: Go with a proven program.)
It really doesn't get much better.



Would you like to retire in Florida like I did?


Ladies, learn how natural skin moisturizers help prevent wrinkles on the Florida beach


Running on sand will help you burn belly fat


Save $1000's with a cheap Florida beach wedding


Go to Tax WriteOffs page from Travel Writing Tip page


Go to Florida Beach home from Travel Writing Tip page