Cheap Florida Beach Vacation
The best Florida beaches are our West Coast beaches
You can easily have a cheap Florida beach vacation on the Florida west coast beaches.
You wouldn't believe the amount of times I am asked, "Where are the best Florida beaches for a cheap vacation?"
For me, the answer is...the Florida west coast beaches.
A Florida gulf coast vacation can be a lot less expensive than one down in Miami or over in Fort Lauderdale.
A Florida gulf coast beach vacation will save you plenty because you are not paying for glitz or phony atmosphere.
There are a lot of unique places to see and a variety of simple things to do. The small barrier island communities have many attractions and the entire lifestyle is slow-paced.


A cheap Florida beach vacation starts with knowing yourself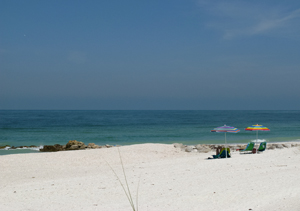 Listen, I'm not trying to sound hokey, but you really do have to know yourself well to make a cheap beach vacation work.
If you get jacked up thinking about bright neon lights, hotel/resort amenities, or dining at chic trendy restaurants...this will not be a good experience.
Is it worth it for you to save a $1000 dollars and be unhappy the whole time because a cheap beach vacation doesn't fit with your idea of a good time on the best Florida beaches?
The barrier islands offer everything from miniature golf, to quiet parks for picnics. There are community tennis and basketball courts for those who are active, and early morning yoga groups for those who are more reserved.


The Gulf Coast Beaches - for a cheap Florida beach vacation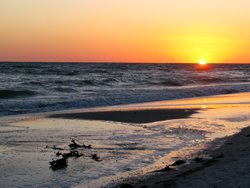 To me, Madeira Beach FL and Treasure Island FL are ideal are the best Florida beaches for a cheap vacation.
They are beautiful, clean, and uncrowded.
There are still a few Mom & Pop motels and even some older beach cottages to stay in.
Both barrier islands have long shorelines to walk, they are close to grocery stores and inexpensive eating places, they have cool beach bars, there are places to dance and meet new people.
These two beach communities are separated by Johns Pass Village making waterfront dining and shopping convenient to both.



Plan your accommodations well for a cheap beach vacation


If you are looking for a cheap Florida beach vacation, resorts and big name hotels are out.
You want something between $60 - $90 per day directly on the beach. This means you will be looking for a clean, but small studio/efficiency apartment.
If you don't mind being a block or two off the beach, an older non-franchise motel can be found if you are willing to hunt a bit.
Pictured here is the Seaside Motel Apartments on laid-back Madeira Beach FL.
This is the type of place you are looking for to cut $100's of dollars off your lodging bill. What makes this little place great, though, is the beach is about 50 yards away.



Budget eating for a cheap Florida beach vacation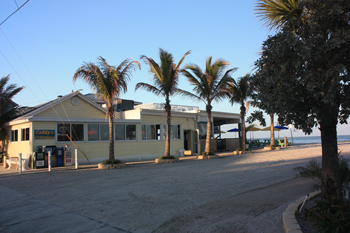 You don't want food or dining cutting into your budget.
The great thing about cheap beach studio motel rooms is that you normally have a microwave and refrigerator.
It is best to plan on eating two of you meals in your room and one of them out.
Since breakfast is my favorite meal of the day, I look for a local beach bar that serves it early. The Florida west coast beaches are full of these places.
Pictured here is Caddy's Beach Bar on Sunset Beach, a local favorite on Treasure Island FL.
You can get stuffed for under $8. I love this place. It is nice and quiet early in the morning and you can sit right on the beach and listen to the waves.
In the evening, you can come back and toast a beautiful Florida beach sunset.
Keep a lot of fresh fruit and nuts back at your place to snack on. Don't bring a bunch of unhealthy "energy bars", pop, beer or pastries back to your place fromm the grocery.



Living the life on a cheap Florida beach vacation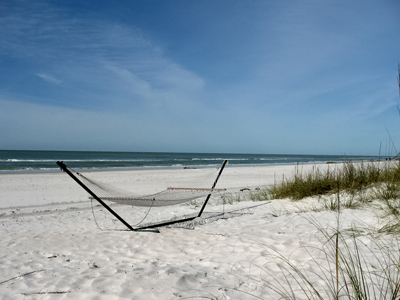 Living the life on the Florida Gulf Coast beaches means making the outdoors a priority.
if you truly desire a cheap vacation on the best Florida beaches, you'll need to be comfortable with a lot of quiet time spent walking along the breaking waves, going for a swim in the Gulf, reading and snoozing in a beautiful setting, and enjoying Nature to her fullest.
Theme parks, fancy restaurants, and shopping will put a huge dent in your wallet.
However...you can't be expected to be a recluse and have any fun. Get the community paper and find out what is going on at the local beach bars for Happy Hour, and which ones have dancing.
You also can't just lie out on the beach and roast the entire day. Plan for a nap back at your room after a snack of some fresh fruit.
Recharge so you can walk to one of the local beach bars and cheer on the sunset.
* If you enjoy reading a lot, find out where the second-hand bookstores are in relation to where you are staying. Chances are, you'll be able to walk there.





The Florida west coast beaches on the barrier islands west of St Petersburg FL offer tremendous opportunities for a cheap Florida beach vacation.
You can ride from Pass-A-Grille Beach on the south...all the way to Clearwater Beach FL in the north for one ticket on The Beach Trolley. with lots of stops in between.
It will give you a great chance to see the entire length of Sand Key.
I hope these suggestions have helped.
The Florida Gulf Beaches are like Paradise to me. I think they are your best bet for planning a cheap Florida beach vacation.


Would you like to retire in Florida like I did?


Go to Florida Beaches home page


Go to our main vacation page from our Cheap Florida Beach Vacation page


Tips on how to clean the sea shells you find here in Paradise