Vinoy Park - St Petersburg FL
An edge of beauty and relaxation in downtown St Pete







Vinoy Park is a beautiful, active, and relaxing piece of the St Petersburg Waterfront Parks system. This is one of the prettiest areas in downtown St Pete.
Located on an edge of Tampa Bay, with a perfect view of St Pete Pier, this is a very peaceful place just to relax.
Walk east along 5th Avenue NE from the Vinoy Marina. The park is right at the elbow of where it meets up again with Bay Shore Drive NE that runs parallel to the Bay.
You'll find everything from serious runners to roller-bladers to children riding bikes with training wheels.
There are several benches overlooking both the Vinoy Marina and Tampa Bay. You'll see readers with a great book, artists with easels, and couples just wanting a quiet, romantic setting.
The north part of the park features a huge grassy area that runs all the way to the North Shore Park playground. It is also the venue for annual celebrations like the Fourth of July party, waterfront jazz concerts, The Starfest in May, The Taste of Pinellas in June, and The Ribfest in November.
Vinoy Park is beautiful, but it does NOT have any restroom facilities, only a water fountain. You'll have to walk a half-mile north to North Shore Pool for public restrooms.



Vinoy Park in Pictures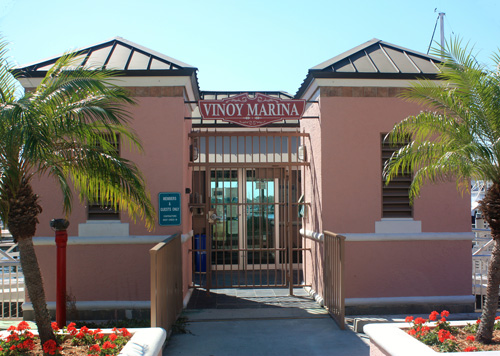 The park starts about 100 yards east of the Vinoy Marina on 5th Avenue NE.




This pathway leads right into the park.




You'll find people reading books.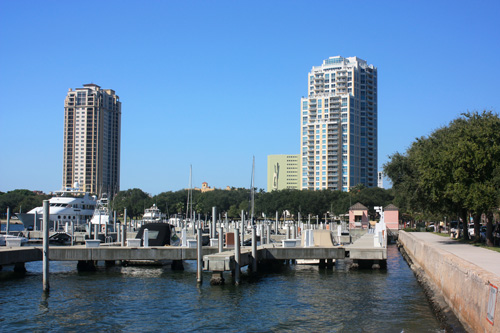 They have a beautiful view of the Vinoy Marina and downtown St Pete when looking west from the park.




Runners love the beauty of this park.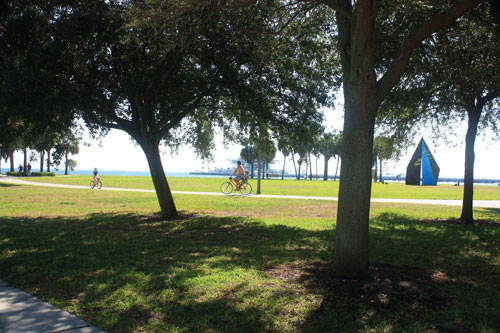 Parents like to bring children here to ride bikes.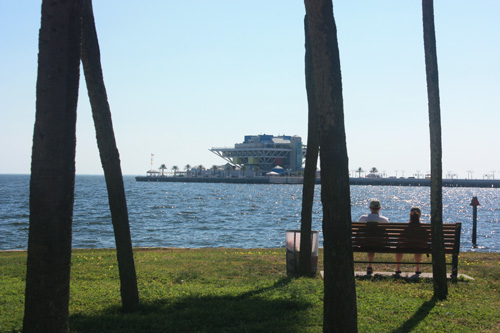 Couple like to talk quietly as they look out over Tampa Bay toward the St. Pete Pier.




This art structure is the only thing that breaks the naturalness of the park.




The pathway leads north along Tampa Bay to North Shore Park/Pool.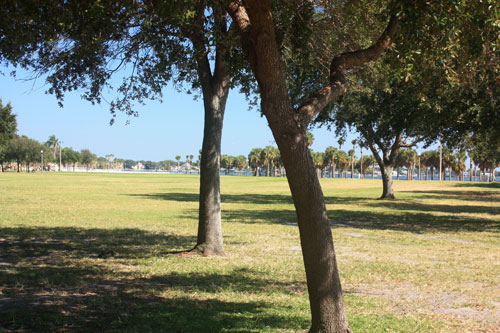 This large grassy area stretches all the way to the playground at North Shore Pool. It is also the venue for several big events in downtown St Pete.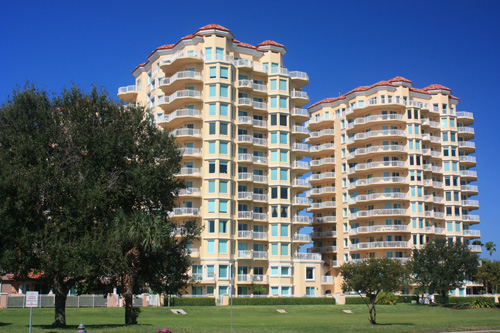 The contemporary Vinoy Condos are directly across from this quiet downtown park.

Vinoy Park is a beautiful place to visit. If you are staying in downtown St. Petersburg, FL put this on your list to visit.







You can have a cheap Florida Beaches vacation with careful planning


Have dinner at Grayl's Hotel in downtown St Pete


You can become a travel writer online


Go to Florida Beaches home from Vinoy Park page