Beach Body Workouts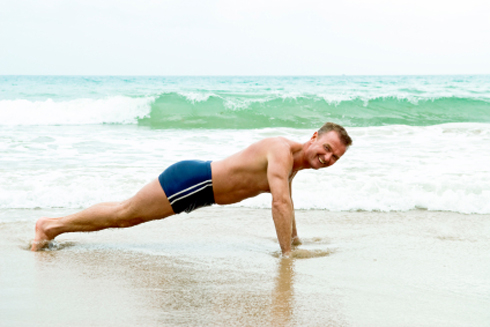 Beach body exercise - Exercise to lose belly fat
Beach body workouts are usually associated with interval training combined with a body-weight exercise. If you are looking for ways to burn belly fat on your Florida beach vacation, this will help.
When you are in a beautiful setting like the Florida beach, where sun-filled carefree days are the norm, it is difficult to think about exercise to lose belly fat. However, you have the perfect locale to create a beneficial exercise plan.
Getting started each morning by training in clean salt air along a pristine coastline makes the whole day better. (And is conducive to good naps.)
Being on a Florida beach vacation doesn't mean you take a cavalier attitude toward watching what you eat and drink. You don't want to return home with 10 extra pounds of fat to lose.
It is far easier to stay in shape, than it is to get in shape.




Beach body workouts to burn belly fat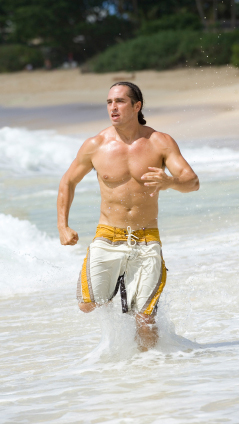 There are many of us here on the Florida Gulf Beaches who workout regularly in the mornings.
* If you decide to try our idea of beach body exercise, make sure you've talked with your physician about working out in the tropical Florida climate.
* Heat, humidity, sun, wind, water, and sand are all a part of the Florida beaches. Make sure you have made adequate preparations to cover them. I always bring a hand towel and a large bottle of water to drink.
* Here's one of my workouts:
(I wear shoes and stay out of the waves, but that's up to you.)
- Warm up with 10 minutes of easy jogging
- Stretch for 5 minutes, especially hamstrings.
- Sprint for 45 seconds along the shoreline

- Do 15 push-ups.
- Sprint 45 seconds
- Do 15 Prisoner Squats
- Sprint 45 seconds
- Do 15 push-ups(This is 1 set.)

- Rest 90 seconds. Repeat for two more sets.
- Jog over to a small play ground and do 10 pull-ups
- Do 10 minute cool-down run.
That's it for my beach body exercise session. I'll change it a bit next time.





Beach body workouts can be enhanced with a proven program to burn belly fat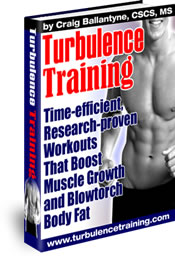 In my opinion, the best program for proven ways to burn belly fat is
Turbulence Training
by Craig Ballantyne.
* This program was designed to be ever-evolving and time-efficient.
* Craig has sections on both body-weight exercises to maintain lean muscle mass and burn belly fat, as well as chapters on using equipment found in gyms.
* Craig's workouts change every 4 weeks. Your body will adapt to the stress of exercise to lose belly fat and build lean muscle mass. The program must keep evolving for you to get results.
* There are NO requirements to purchase expensive (and mostly worthless) supplements. You will NOT have to buy special high-tech exercise gadgets.
* There are NO miles of mindless cardio involved.
To me, Turbulence Training is the strongest program available to get results from your workouts on the Florida beaches.


Male belly fat is a turnoff to women on the Florida beach. Get more muscular and defined


Go to the Beach Body page from our Beach Body Workouts page


The best newsletter available to get results from your beach workouts


Go to Florida Beach Lifestyle home from our Beach Body Workouts page