Pass-A-Grille Historic 8th Avenue
Pass-A-Grille Beach - A laid back community on the Florida Gulf Coast
The Pass-A-Grille Historic 8th Avenue Business District is an interesting place to visit on your Florida beach vacation. Located on Pass-A-Grille Beach, it perhaps the oldest historic district on the Florida Gulf Coast.
Pass-A-Grille Beach is a small laid-back little community on the southern-most tip of St. Pete Beach.
I came down here on a cool, sunny, beautiful January day. The sky was clear, the air clean with a hint of ocean spray, and the pace...almost stuck in Pause. It was perfect for checking out the 8th Avenue Historic Business District.
About 250 yards long and a block wide, Ripley's Believe It or Not once listed it as the shortest main street in America.
It is bound on the west side by Gulf Way, which runs north-south along the beach, and Pass-A-Grille Way which runs along the Intercoastal Waterway (through Boca Ciega Bay) on the east.
The Pass-A-Grille Historic 8th Avenue Business District is made up of specialty shops that draw a lot of female interest, a couple of bars, the old Post Office, and a real estate firm. It tries to maintain the Old Florida flavor, but that is getting more difficult with housing lots starting about $900K.



A photo tour of the Pass-A-Grille Historic 8th Avenue Business District


This is the first sign you'll see as you enter the island and head south.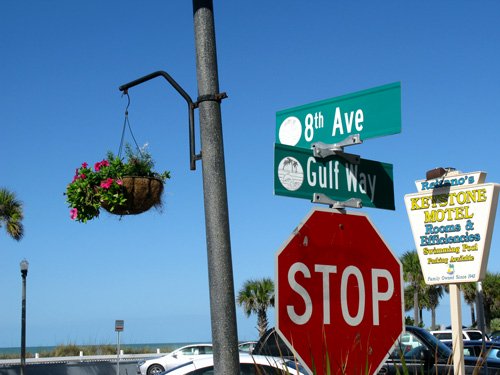 Here's where I started...right on the corner of Gulf Way and 8th Avenue. We'll be heading east toward Boca Ciega Bay.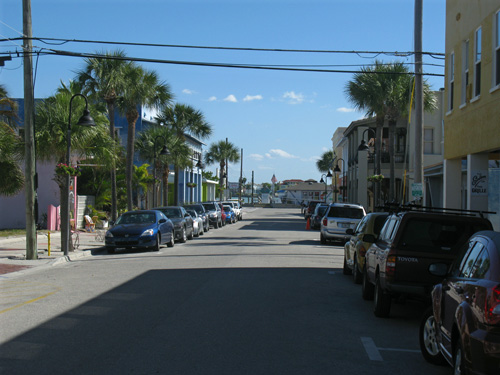 About 200 yards down the street is the Merry Pier where you can buy bait, rent a pole, rent a bicycle, or buy a ticket for a sunset cruise.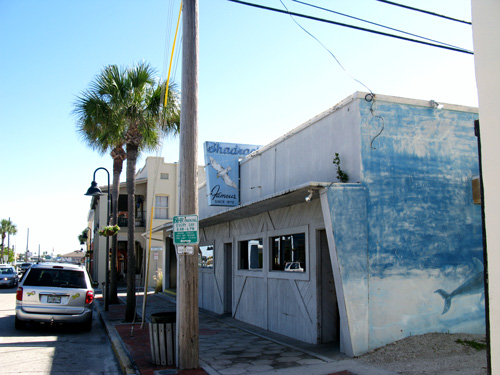 Shadrack's is the town dive bar. If you want to see some local characters, this is the place to visit. Thickly dark inside, it has some pool tables and a dart board. The beer is real cold and reasonably priced. People only go in here for one reason. I like this place, but be prepared for culture shock.



Shadrack's has a patio out back for guys who want to get sloshed in the clean Florida air.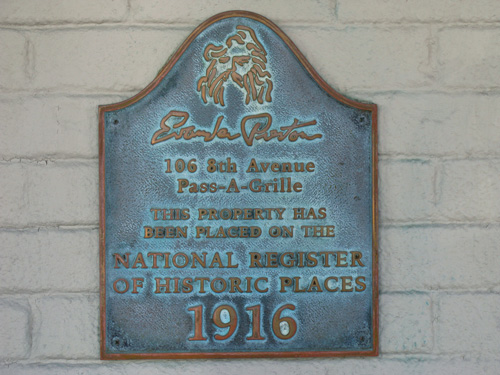 This sign is outside the swank and pricey Evander Preston Contemporary Jewelery shop. This guy is really talented. Even if you can't afford anything in here, it is a great place to checkout. He creates some beautiful pieces...and advertises in the New York Times.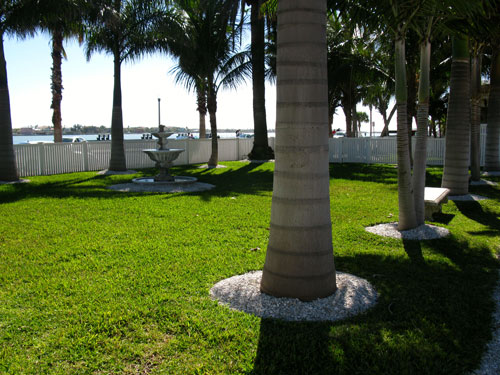 This is a little park that connects to the parking lot of Tarpon Lodge. Although it is beautiful and perfectly maintained, most people like to sit on the benches across Pass-A-Grille Way and watch the boat traffic in Boca Ciega Bay.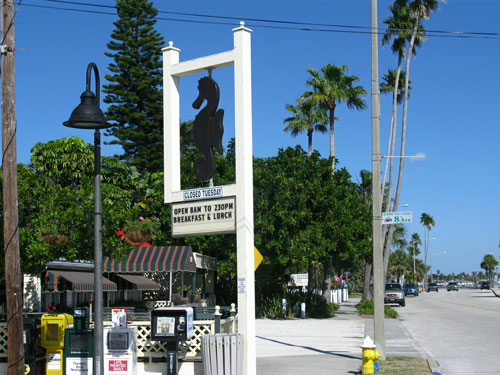 Directly across historic 8th Avenue is The Seahorse Restaurant, one of the two places that serves breakfast. This is where the locals come to eat and also where Joe DiMaggio and many of his Yankees teammates were served many decades ago. (It's closed on Tuesdays.)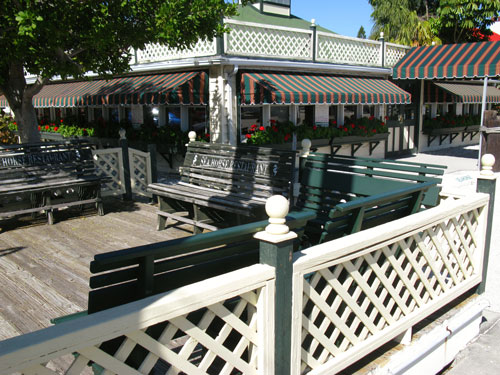 The waiting area for The Seahorse Restaurant...a touch of Old Florida.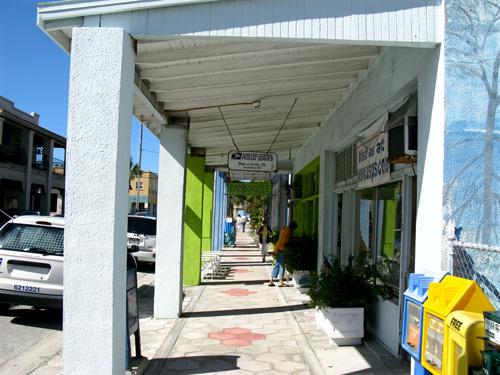 Heading west up the Pass-A-Grille Historic 8th Avenue Business District you'll come to the old Post Office. It still functions.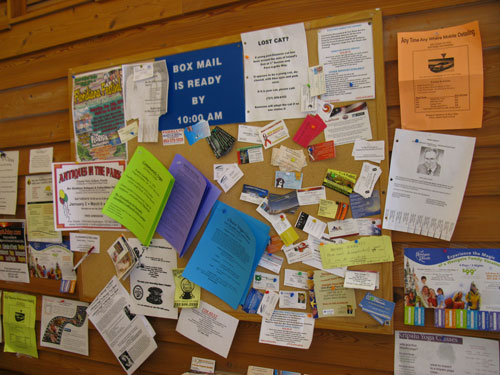 The bulletin board on the west wall outside the Post Office is still a way of communicating in this small community. Although WiFi, email, and the Internet are here to stay, there are still notices for Help Wanted, Job Wanted, Pet Sitting and Baby Sitting.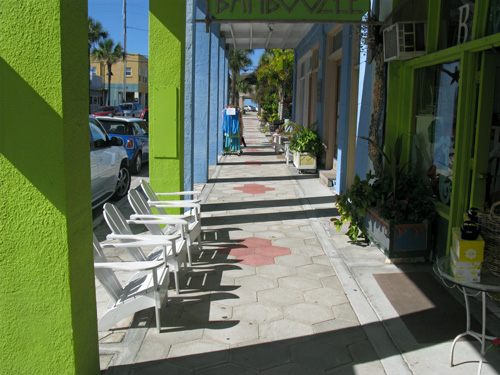 More specialty shops line the north side of Pass-A-Grille Historic 8th Avenue. The art deco colors takes you back in time.



Parking on Pass-A-Grille is by permit only or with money for the over 1000 metered spaces. DO NOT try to beat the system and park in front of someone's home or in, what you think is an empty lot. You WILL get towed...and it's expensive.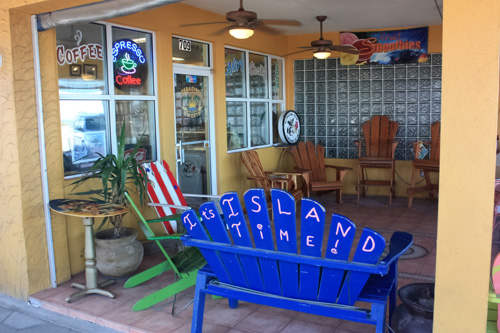 We're back where we started at Gulf Way and 8th Avenue and I'm looking across the street at the coffee, ice cream, and candy shop. The treats here are great, but I want to go upstairs to...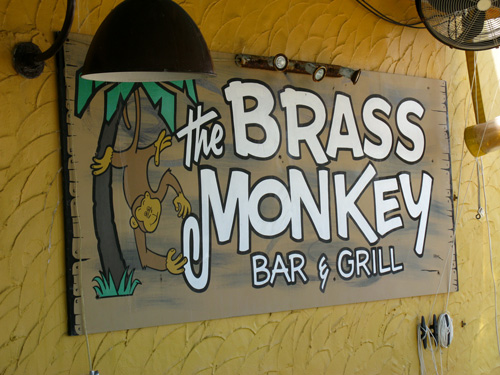 ...The Brass Monkey Bar where I can look out over the beach.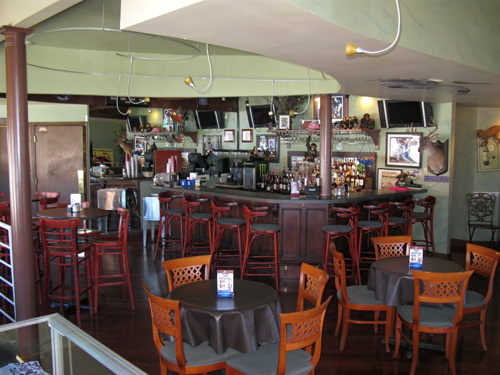 Don't get me wrong...the inside is beautiful...and this place fills up with the 25-40 year old crowd near sunset, but right now...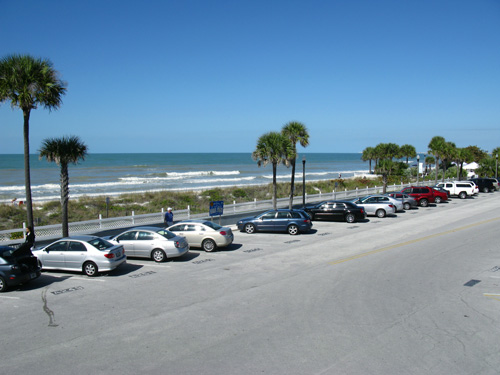 ...I just want to relax and give thanks that I can live the Florida beach lifestyle here on Pass-A-Grille Historic 8th Avenue


Go to the Gulf Beaches Museum page from the Pass-A-Grille Historic 8th Avenue page


Go to Florida Beach Lifestyle home from the Pass-A-Grille Historic 8th Avenue page