The Grand Plaza Hotel on St. Pete Beach combines luxury with laid-back for unique accommodations.
The Grand Plaza Hotel on St. Pete Beach, also called The Grand Plaza Beach Resort, is refined elegance in a laid-back Florida beach surfer community.
Located south of Upham Beach, it is the tallest hotel on the Gulf.
All rooms of the Grand Plaza Beach Hotel include private balconies with an a view of either the Gulf of Mexico coastline to the west, or tranquil Boca Ciega Bay to the east. Accommodations are casual, yet luxurious.
St Pete Beach is a Florida beaches vacation destination for those seeking the feel of the Old Florida surfer lifestyle.
From the soft strains of the Baby Grand Piano in the foyer...to the thumping sounds of Bongo Bongos beach bar out back, the Grand Plaza Hotel has unique experiences for all guests.
If you are looking for resort accommodations in a relaxed, laid-back Florida beach setting, this will be worth checking out.



The Grand Plaza Hotel is popular for Florida beach weddings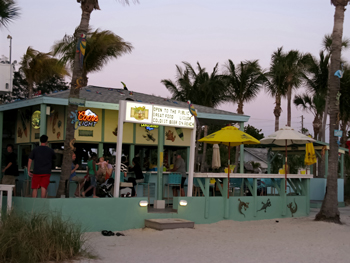 Once, when we were eating at Bongo Bongos Beach Bar a "Shoes Optional" Florida beach wedding was being conducted about 50 yards from us.
It's not what we expected to see from this little beach bar and the patrons were quiet and respectful.
The bride looked beautiful with a short lacy sundress-styled gown and an orchid ankle corsage above her bare feet.
The setting sun provided spectacular blend of orange, pink and blue. The breeze off the Gulf was light, cool, and scented with a clean sea smell.
It looked like a moment the young people involved would remember forever.



Spinners Rooftop Revolving Bistro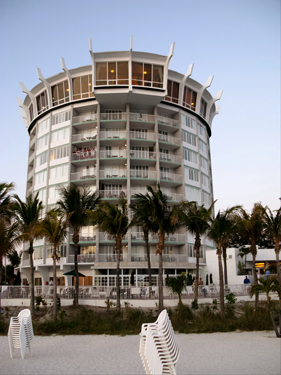 Located on the 12th (top) floor, Spinners provides a beautiful panoramic view of the Gulf, St. Pete Beach and Tampa Bay.
Lunch opens at 11:00am and runs until 4:00pm. Dinner begins at 4:00pm and concludes at 11:00pm.
The dress is business casual to semi-formal. Some men just wear Dockers and a golf shirt, others wear slacks and a sports coat. The women always look classy.
Stay and enjoy the quiet and romantic atmosphere. The entire revolution of the restaurant takes about 90 minutes.
The Grand Plaza Beach Hotel bills itself as having "The only Rooftop Revolving Lounge and Bistro on the Gulf Coast."
It is an experience not to be missed. We split a dessert up there, after eating on Pass-A-Grille Beach and dancing at Carl's Piano Bar .
The quietness at Spinners capped off a very nice evening.


Location: 5250 Gulf Boulevard - St. Pete Beach FL 33706
Phone: 1-800-448-0901
Grand Plaza Beach Resort Official Website


Return to St Pete Beach FL mainpage from Grand Plaza Hotel page.


Go to Florida Beach Lifestyle home page