Sunset Vista Beach on Treasure Island FL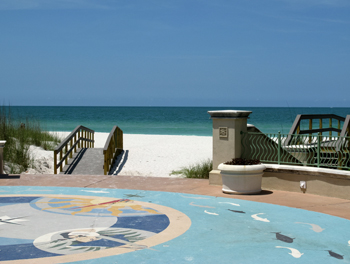 Sunset Vista Beach is actually a small park located on the Gulf in Treasure Island FL. It is a quiet and romanic setting for watching beautiful Florida beach sunsets at the beautifully structured open pavilion about 400 yards north of Caddy's Beach Bar .
This is not an officially designated city beach, just a name to help as a locator for the locals.
The official title is actually Sunset Vista Trailhead Park. Confusing??? Tell me about it.
Several years ago, I walked up and down the beach looking for a sign telling me where it was. I didn't find out the whole story until I overheard one of the locals giving directions to a retired couple at a beach bar restaurant.




The younger locals named the beach because it gives them a point of reference.
It is much easier than saying, "That beach about a quarter of mile north of Caddy's."
See how that works?
Now that I know the younger guys' logic, it makes sense to me too.


A little history...
Back in 1993, two barges carrying jet fuel and Number 6 fuel oil, and a phosphate freighter collided in the Tampa Bay shipping channel, spewing 336,000 gallons of oil into the pristine waters.
There was an enormous fire and a 10-mile long oil slick that spread into the Gulf, screwing up the ecosystem and resulting in millions of dollars in lawsuit damages.
The wheels of justice went into overdrive and by the year 2000, funds were disbursed to build this little park.
The sign says: "Property for Sunset Vista Trailhead Park was purchased with funding from the Florida Communities Trust Preservation 2000 Program, and assistance of the Trust for Public Land. Construction of the Park was funded in part with Natural Resource Damage Funds recovered by the Florida Department of Environmental Protection and the National Oceanic and Atmospheric Administration for Public Recreational Losses caused by the 1993 Tampa Bay Oil Spill."
Hopefully, that clears things up.



Why do people come to Sunset Vista Beach?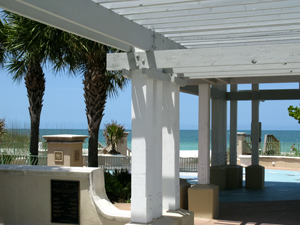 Older locals mainly come to Sunset Vista Beach to watch the beautiful Florida beach sunsets away from all the commotion and hoopla down at Caddy's Beach Bar.
There is no parking here, so to reach the pavilion you'll have to walk or ride your bike. There are high-tech bike racks near the front.
The pavilion is very tasteful in its structure and provides ample room and seating for those who do not wish to walk down to the beach. There is a convenience store right across Gulf Blvd if you want to purchase some coffee or a soda. (Alcohol is prohibited.)
An artfully designed shower is available for those who want to rinse off after a swim, but there are no restroom facilities.
There is an interesting "Nature Trail" that winds along the dune with display signs telling you about the fragile dune ecology. Two things I did not know prior to walking the small course were (1) Raccoons live among the dunes, and (2) Less than 30 percent of the original beach vegetation is thriving.
The Australian Pines that you see lining Sunset Beach to the south are responsible for most of the problem.
Warning!: Watch out for sand spurs as you walk the narrow path, especially if you are with children. One of those prickly little jokers in a toe squashes the mood real quickly.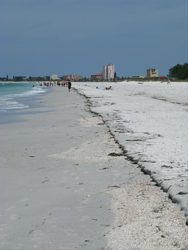 Sunset Vista Beach is a quiet area with few people.
The condo rentals lining Gulf Blvd are rarely at full occupancy unless it is during Spring Break.
It is a nice place to get a tan, swim in the clean Gulf water, and take a nap.
You'll have to hike down from the County Park free parking beach access, but it shouldn't be a problem unless you are carrying a large beach chair.
A beach towel, small cooler and book would be the way to go. Stay simple and enjoy the beauty of this slice of Florida beach paradise.

Location: The Sunset Vista Beach pavilion is easy to see from Gulf Blvd. It is directly west of the stoplight/fork that takes you either down to Sunset Beach or across Blind Pass Bridge to St. Pete Beach .
It is much more difficult to see from the beach area. The best thing to do is look for the wooden bridge walkovers as you get closer to Caddy's while walking south. As of right now, there is a big concrete bench stuck in the sand directly in front of the walkovers...but that could be moved back if it becomes a nuisance.


Return to Treasure Island main page from Sunset Vista Beach page


Thinking about a Florida beach wedding?


Go to Florida Beach Lifestyle Home Page