A romantic Florida beach wedding can be done cheaply and on a budget
You can have a romantic Florida beach wedding on a budget. Solid planning helps keep it a cheap beach wedding. Getting married on a Florida beach does not have to be expensive to be a wonderful memory.
If you start early and plan with a budget in mind, you can be married in a beautiful Florida beach ceremony that you, and those attending, will remember forever.
I'm not saying all of the planning will be easy, but you will be amazed at how simplicity can enrich a wedding ceremony.
Mother Nature can provide you with a beautiful setting. You can enhance the atmosphere with some simple and subtle additions.
Most of the information here will relate best to Treasure Island FL and St Pete Beach FL , but I am hoping you can use it to help you plan for an inexpensive wedding on other seashores.
Your wedding day should be one of happiness and anticipation for a wonderful future together.
You and your family shouldn't have to have your thoughts returning to heavy credit card debt, depleted bank accounts or an oppressive loan.
You can have a beautiful cheap Florida beach wedding with wonderful memories...and save $1000's of dollars.
There is NOTHING wrong with being frugal and getting married on the seashore with a well-planned cheap beach wedding.


Solid planning makes for a wonderful Florida beach wedding

It is definitely romantic for a couple to think about being married on a cool white-sand Florida beach, saying their vows with a background of soft waves running to shore and a clean-scented seabreeze blowing through the bride's gentle curls.
What could be a more beautiful way to start a life together?
You can make it happen, without a lot of expense, if you pay attention to boring details very early and do some tedious investigation on ways to save $1000's of dollars. (You might want to show this to the bride's father. I'm sure the aspect of a cheap beach wedding will be well-received.)
* Personally, I DO NOT think you need a "Wedding Planner". To me, these people charge huge fees to act as secretaries/coordinators. If you have good organizational skills...can communicate clearly and effectively without getting emotional...start early and don't procrastinate...can deal with the inevitable mix-ups and double-checking required...you will save a bundle.
* However, it might be a good idea to have a one-hour consultation with one of these people in the beginning. Just don't get sucked into signing a contract for their services. They will definitely try to play on your fears and emotions.
It is best if you sit down early with a big pad of paper and start thinking of details (outside of finances) that you normally do not have to think about when being married in the neighborhood church.
Getting married on a Florida beach presents an entirely unique set of small challenges.
For instance...
* Will everyone be expected to go barefoot? What about grandparents and older people who have to walk a distance over rough boardwalk bridges and across the sharp little shells of a renourished beach?
* Will everyone be expected to stand for a long length of time...or will everybody bring an aluminum folding chair?
* Expensive accessories like carved-ice dolphins and custom flowers will not stand up to the warmth and humidity on a Florida beach like they do in a temperature-controlled environment of a church. (Do not allow some florist or wedding planner tell you otherwise. Once they are paid, everything becomes your problem.)
* What to wear is a concern for guests. The beauty of Florida beach weddings is the romantic, but casual atmosphere. However, there might be a need for sartorial guidelines if you fear the groom's buddies will show up in tank tops, baseball caps, and cargo shorts.
* The time of day...as well as the time of year is a major factor if you plan to exchange vows on the beach. Being a June bride is romantic...however, June is the start of hurricane season in Florida, and daily showers are normal.
* In almost all instances, Florida beaches are open to the public...which means you could have a number of curious onlookers joining your ceremony. It is best to have your wedding early in the morning (my favorite) or a half-hour before sunset. The beaches are far less crowded at these times.
* Parking is something you really want to study. A neighborhood church has it's own parking lot, but on the beach lots are open to the public. There is no way you can reserve an entire municipal lot, and you don't want people forgetting to bring a pocketful of U.S. Quarters to feed the meter...then leaving your wedding to find a ticket on their windshield. (This is why sunrise or sunset ceremonies are the best.)
* Fortunately, the Florida beaches dictates a short, casual, sexy wedding dress. You may find a lavish traditional long dress in your favorite store, but it will get snagged and stained as it is dragged over the sand. It is not worth spending $1200 on a dress that will easily get damaged. A beautiful tea length or ballet length sun dress will cost under $200.
* Let the bridesmaids know what to wear early in the planning. Who knows? They may find the perfect cute beach wedding dress for you even before you do.


Stay local for a cheap beach wedding

* Once you decide what beach you want to be married on, start working on a list of local dress shops, photographers, and caterers. It won't do you much good to order a dress from some obscure company over the Internet, then find out there are problems with it that confound local alteration shops.
* Make it a point to find the correct city/county authority to ask permission for whatever you need permission for. The communities along the Gulf Beaches receive requests daily about beach weddings, call and find the expert at the right agency and ask if you can have an appointment. Make a written list of what you want to ask so you don't forget something crucial. Take a notebook along to record any great suggestions they may have.



City of Clearwater FL website

City of Indian Rocks Beach FL website

City of Madeira Beach FL website

City of Treasure Island FL website

City of St Pete Beach FL website

Pinellas County Marriage License


* Ask each local person you come in contact with about any suggestions they may have to reduce your expenses as much as possible. You'll be pleasantly surprised when you ask everyone, "What is the best money-saving tip for weddings you've ever heard?"
* Believe it or not, many brides are now finding cute cheap wedding accessories at Target and Wal Mart. They are also finding great deals on cakes and food for their nice beach wedding.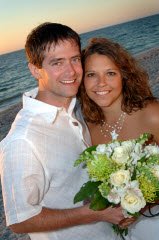 Great money-saving tips for your wedding on the Florida beach

Jenn Brennan, has written a wonderful eBook you can read on your Kindle with solid tips and strategies for cutting the expenses of a wedding.
There is no reason for you (or your parents) to dump $1000's of dollars into beach wedding scams run by DJ's, caterers, photographers...and worst of all, Wedding Planners.
For $4, you can download her insights onto your desktop.
You can have a cheap beach wedding. It just takes some energy, forethought, and planning on your part.



More things to consider for savings on your Florida beach wedding


* Florida beaches can be windy. You don't want expensive frilly decorations blowing out into the ocean. You can find nice-looking, memorable, and inexpensive items at the local Florida beach gift shops.
* Consider giving the guests a small colorful unique seashell to commemorate your marriage. It is much more personal that expensive custom chocolate figures.
* For those of you getting married on one of the Pinellas County Barrier Islands, the Florida Shell Shop on Treasure Island has an exceptional selection of beautiful, inexpensive shells. Guest love keepsakes like these and they are also perfect for table decorations.
* Cold fresh cut/scooped fruit, cheese-square skewers, and pulled grilled chicken breasts relate seamlessly with your theme of a beach wedding. Watermelon, Honey Dew melons, Cantaloupe and strawberries taste great, are healthy...and far less expensive than exotic salads and entrees concocted by a caterer with huge profits in mind.
* Plan to have your guests participate in traditional beach wedding customs such as "Jumping the Broom"..."Tossing of the Shells"...and "Blessing the Message in the Bottle."



Do not put up with...
*Salespeople, photographers, food providers or anyone else taking your money who make manipulative comments, clucking noises, roll their eyes, or feign a grimace when you initially discuss your plans for a budget beach wedding. They are all in business to make a profit and all of them know brides run on the emotion and romance of a memorable Florida beach wedding. The more doubt they can put in your head about what guests "will think", the more money they can take from you.
Do not allow passive-aggressive judgmental attitudes toward you having a an inexpensive wedding on a beautiful Florida beach separate you from your logic.
In the immortal words of Judge Judy..."If something doesn't make sense it is dishonest and not true."
(Example: A professional photographer who says he has to charge you more because the sand could potentially ruin his equipment, or a bogus Wedding Planner who says they can save you 50% on every idea you come up with. Yeah...right.)




Find positive, encouraging and upbeat people who want to make YOUR dream come true.

Start early in your planning and you will be able to surround yourself with quality people who want what's best for YOU.
You can definitely have a beautiful, memorable, inexpensive Florida beach wedding. Yes...it will take some monotonous investigation and discipline to stay logical instead of emotional when merchants try to "upgrade" you.
You can save $1000's of dollars...maybe even $10,000 dollars and have a wonderful experience that your bridesmaids and guests will talk about forever.



Wedding at Sunset Beach Pavilion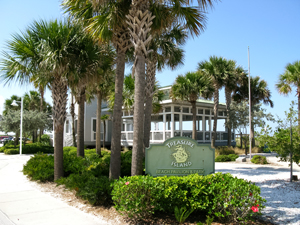 Sunset Beach Pavilion is the most popular place for a Florida beach wedding on the barrier islands south of Clearwater.
Also known as the Treasure Island Pavilion it is a beautiful setting to get married on the beach. Clean and well-maintained.
The city staff is very knowledgeable about Sunset Beach weddings here and can give you valuable suggestions that will save you lots of frustration.
Include this as one of your first calls of your early planning. Reservations can get stacked up fast here.
You will be pleasantly surprised at the extremely reasonable rental fee for both Sunset Beach Pavilion and Black Skimmer parking lot.


Cheap Sundresses For Beach Weddings Are The Way To Go


Get cheap beach wedding flowers ideas


You can save money with inexpensive beach wedding reception decorations


Save $100's of dollars with simple and inexpensive beach wedding centerpieces


Save tons of money on beach wedding supplies


Do you really need a Wedding Diet to look great at your wedding?


Treasure Island weddings are becoming more popular


Guidelines for mens attire at your wedding on the Florida beach


There are specific Rules and Regulations for weddings at Sunset Beach Pavilion