Breakfast At Paradise Grille - Florida Beach Life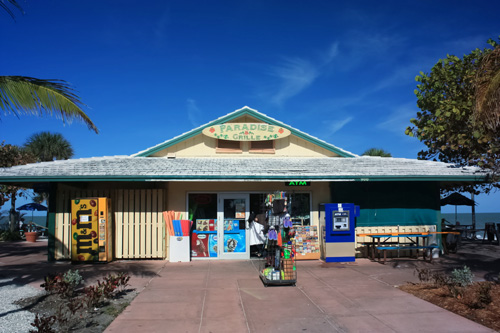 We had a quiet, laid-back breakfast at Paradise Grille on Pass-A-Grille Beach, FL
Breakfast at Paradise Grille
on quiet
Pass-A-Grille Beach
was cheap, filling, and laid back. This was living the Florida beach life at its best.
Located between 9th Avenue and 10th Avenue on Gulf Way in Pass-A-Grille, this iconic little snack bar serves up great, inexpensive breakfasts starting at 8:00am, seven days a week.
The nice thing about Paradise Grille is that it is right on the beach. You hear the waves, smell the clean salt air, and feel the gentle ocean breeze.
Weekdays are far less crowded than weekends, but Paradise Grille can get pretty full after 10:00am. (A lot of people are jockeying for position because the bar opens at 11:00am. Beers are 99 cents from 4pm - 6pm, Monday thru Friday.)
On Fridays, Saturdays, and Sundays, craft vendors set up their booths right next to Paradise Grille. There are a lot of beautiful hand-crafted wares, as well as paintings and photographs.




Breakfast At Paradise Grille In Pictures
We came down here on a Saturday morning, so there were more people than normal. Monday mornings are extremely quiet.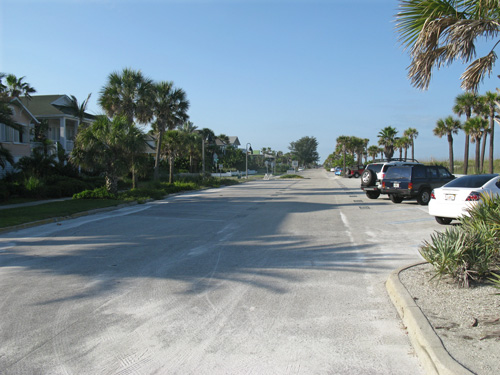 Gulf Way, which runs parallel to the beach, was pretty bare up by 21st Avenue. (Looking south)




When we got there, vendors were set up, and a bus load of visitors had just pulled in.




You order around back, about 50 feet from the beach.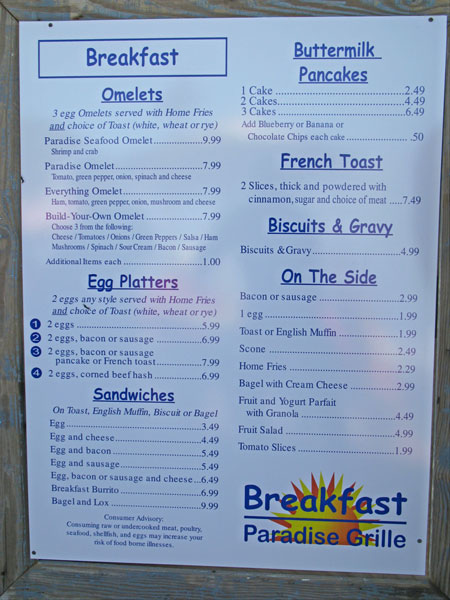 There is a large menu right next to the counter. Breakfast items are reasonably priced for this place being the only snack bar on the entire beach.




We split the "Everything Omelet" and it was plenty for both of us. It came with home fries and rye toast.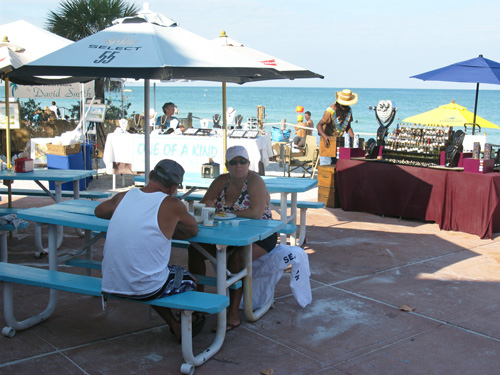 There were plenty of other customers enjoying the great food and the beautiful Florida beach morning.




We had the BEST view of any table at Paradise Grille.




Pass-A-Grille Beach is noted for the "Ringing of the Bell" that is located next to snack bar. Paradise Grille closes each evening at sunset, when the bell is rung.




The bell is rung in in both celebration and thankfulness. It certainly makes you think about what is important at the end of the day.

If you are looking for a very quiet start of the day on the the beautiful Florida beach, breakfast at Paradise Grille is hard to beat.



Go to Florida Beach home from Breakfast At Paradise Grille page