Cha Cha Coconuts - St. Petersburg, FL
Make St Pete Pier a place to see on your Florida beach vacation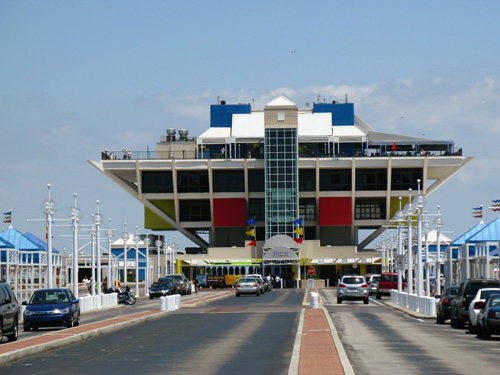 Cha Cha Coconuts, on top of The Pier, is the place to go for dining fun in St. Petersburg, FL. Downtown St Pete is beautiful, and you can see it all from the upstairs patio. Whether you call it a tropical bar and grill, or a waterfront restaurant, it is definitely an eating experience you will remember.
I've eaten lunch up here about twice a month since February...have been on a couple of dinner dates in between...and each time I find myself enjoying it even more.
It is easy to see why Coconuts is continually voted "Best View in Tampa Bay."
For starters, the outdoor seating is five stories up on St Pete Pier and provides a 360-degree panoramic of Tampa Bay to the east and downtown St Pete to the west.
You can sit mesmerized by the beauty of the Bay, watching sailboats and pricey yachts heading out of the downtown marina...or you can turn around and catch the sun setting behind elegant skyscrapers over in St Petersburg.


Cha Cha Coconuts personifies the St Pete Pier experience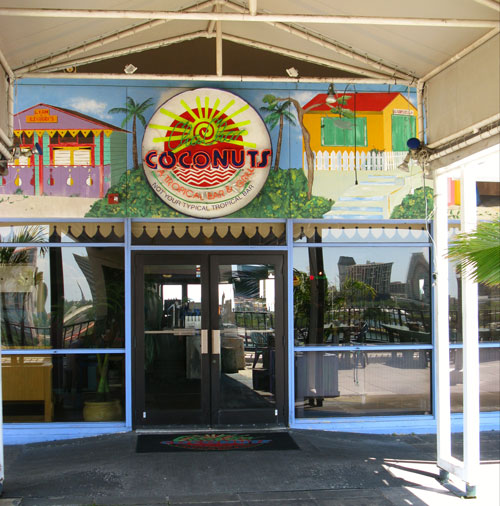 The St. Pete Pier has always been about uniqueness, variety and fun.
Putting Coconuts on the top floor just adds to the experience.
Although I have eaten up here during all seasons, I find Spring and late Summer to be the most enjoyable. The breeze is a bit cooler and the sunshine more warming on your face.
It seems like women enjoy it more at these times because it is not too hot...not too cold. (Ladies, please note there is always a breeze up here. Sometimes it is gentle and sometimes it can be strong. It is just part of the ambiance.)
This is one waterfront restaurant that does not overload its menu with seafood.
As a matter of fact, the majority of dishes have a Latin/Caribbean flavor to them. They are spicy without being macho. You do not have to sit on an ice bag to enjoy them.



Cha Cha Coconuts gives you a beautiful view of downtown St Pete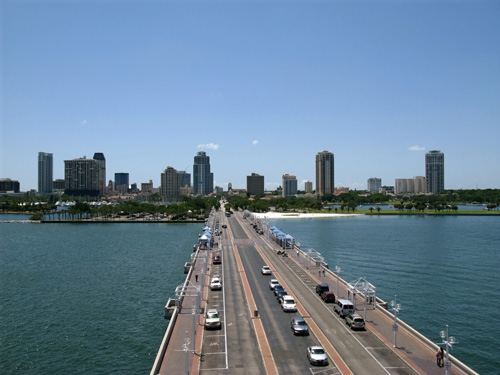 Since the St. Pete Pier sticks out a quarter of a mile into Tampa Bay, you can expect an exceptional view of St Petersburg FL.
Many visitors and retirees come up here strictly to have a quiet drink while they experience the true beauty of "America's Most Livable City."
Looking back toward the city skyline, watching people enjoy themselves along the waterfront parks, bicycling to and from The Pier, or drifting leisurely in a small boat with a fishing line gives you a peaceful feeling.
I know I'm biased...and visitors from San Diego, San Francisco and even St. Ausgustine FL would challenge my subjective opinion...but I think St. Petersburg, FL is unmatched when it comes to charm and eye-appeal.



Cha Cha Coconuts brings energy to the St Pete Pier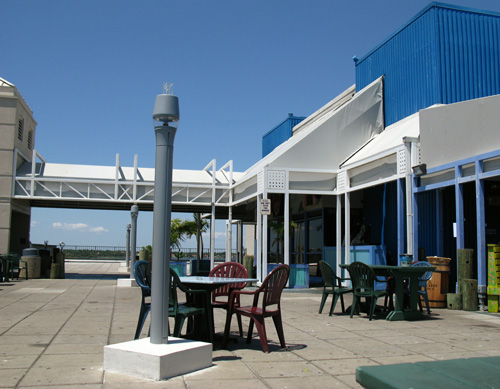 Locals and visitors, alike, come to Cha Cha Coconuts because it offers something for everyone.
The food is good and very reasonable priced. The menu is not all fried and greasy bar food.
Dress for this St Pete dining is overwhelmingly very casual, although it can range from a t-shirt, shorts and flip-flops...to business men and women meeting for lunch in stylish dresses and sports coats.
Families enjoy Coconuts because of the inexpensive selections and a Kid's Meal menu. It is the nice way to finish a day at St Pete Pier.
On a date, you can spilt one of the burger/sandwich plates and feel stuffed. They do not skimp on proportions.



Up on top, Cha Cha Coconuts is all about the carefree atmosphere of living in Paradise


The panoramic views create a relaxed and carefree attitude when dining up here. Coconuts is beautiful and it won't dent your wallet. It is definitely a stop on a cheap Florida beach vacation



Location: The St Pete Pier - 800 2nd Avenue NE - St Petersburg FL - 33701

Phone: 727-822-6655



Go to Florida Beach Lifestyle home from Cha Cha Coconuts page


Bar Hopping on St Pete Beach