Florida Skin Care
Homemade face moisturizers are popular Florida skin care products
Florida skin care
centers around homemade skincare products that help repair and revitalize a woman's skin here on the Florida beaches. Natural skincare recipes are the key to anti-aging.

Although the wind, clean seawater, and sunshine are cherished elements of the Florida beach lifestyle, they can also damage a woman's skin if she is not vigilant about beach skincare.
More and more, women who thrive on the outdoor lifestyle are gravitating to homemade face moisturizers because they can control the healing ingredients...and keep harsh chemicals away from their skin.
Women who create vitamin-rich natural skincare products from their refrigerator have complete confidence in the healthy preventative, and anti-aging aspects of their skin treatments. Natural "sun care" is both attractive and seductive.




Florida skin care starts in the kitchen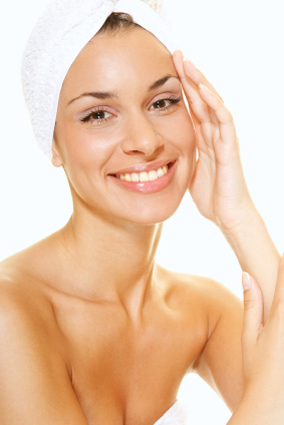 I say
healthy skincare
starts in the kitchen because skin repair and anti-aging are just as dependent on what you eat and drink, as well as the natural beauty products that women create.
* Keeping sugar foods and processed foods out of your diet promotes healthy cellular growth. Your body cannot transport nutrients to your skin cells near as effectively if it is working on pumping chemicals and toxins out of your system.
* Integrating more fresh fruits and vegetables into your diet, as well as solid protein sources (like turkey, fish, and chicken breasts), promote anti-aging from the inside-out.
* The benefits of drinking water cannot be denied. Having a glass of ice water when you first wake up...as well as with each meal...helps maintain smooth and supple skin. Staying hydrated throughout the warm days is a no-brainer.
* Women on the Florida beaches who create their own natural skincare creams and lotions know EXACTLY what ingredients are included.
* Homemade skincare recipes take the guesswork out of percentage of preservatives and petroleum-based chemicals found in manufactured products.
Is it any wonder that women in cooler climate areas are now motivated to create their own simple natural face creams and body lotions? Beach skincare has enhanced motivation.




This blockbuster eBook energized the natural Florida skincare movement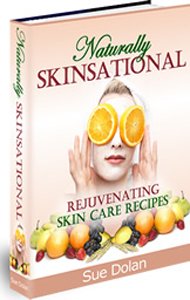 Naturally Skinsational was thrust into both the national consciousness and the Florida beach lifestyle in the winter of 2009.
* Author, Sue Dolan, created the firstever, anti-aging recipe book of its kind, and word-of-mouth took it from there.
* Fox News was so enamored with Sue's easy-to-read and humorous book, that they invited her on the air for a special segment to demonstrate both the ease and simplicity of creating homemade skincare products.
* This was especially timely because the recipes are so inexpensive, (How much does an egg, a tablespoon of honey, coconut oil, some strawberries, and a few ounces of milk cost?)...yet the resulting outcome of a rich and youthful skin appearance are startling.
* Natural Florida skin care became simple, sensible, and much more safe since women started creating beauty products from their refrigerator.
If you have been strongly thinking about homemade skin treatments, Naturally Skinsational may be the critical resource that could help you most.
It is inexpensive, comes in a downloadable format, and carries a 60-day 100% refund guarantee. Sue's book has helped 1000's of women feel more confident and safe about what ingredients are being absorbed into their skin.
Natural Florida skin care is becoming the norm for women who enjoy the outdoors here in Paradise.


Would you like to become a travel writer, visit interesting places, and writeoff your expenses?


Go to Beach Skincare page from our Florida Skin Care page


Go to Florida Beaches home from our Florida Skin Care page