Britts Laguna Grill in Clearwater Beach FL...relax here for breakfast, lunch, or dinner
Britts Laguna Grill is a little Florida beach restaurant located on South Gulf View Blvd - Clearwater Beach FL in a new, beautifully landscaped section parallel to the beach called The Beach Walk .
Britts is open 7 days a week for breakfast, 7:30am - 11:00am. They serve everything from two scrambled eggs and toast...to pancakes...to Crab Benedict.
The menu is a lot more extensive and varied than you'd expect for a small restaurant tucked away on a Florida beach.
This is a great place to mosey into after a quiet morning walk on Clearwater Beach.
Read the morning paper on the outside seating while you have a cold fresh-squeezed Pineapple-Grape-Strawberry juice.
Lunch starts at 11:00am and meals are served all the way until 1:00am. Free parking is available.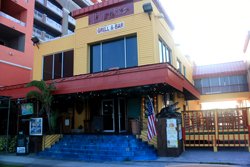 There is inside seating, both upstairs and down...as well as the patio seating.
The times we have dined there, we shared the huge Fresh Fruit Salad, but Britts is great for seafood.
They also have a varied selection of sandwiches, wraps, pasta and burgers. The amount of choices is pretty surprising.
For more information, go to Britts Laguna Grill official website

Location: 309 South Gulf View Blvd. Clearwater Beach, FL 33767
Phone: 727-445-1755 Fax: 727-447-8685
eMail: brittslaguna@aol.com




Go to our Home page for more great Florida beach lifestyle attractions


Head over to the Clearwater Marine Aquarium after breakfast at Britts