Barrier Island News - Be in the know about the Florida Gulf Beach communities with the Barrier Island Gazette
Reading the Barrier Island News is the best way to learn about all of the small little communities along the Gulf Coast beaches.
It is good to know where unique events are being held (both to attend if you like...or to stay away from the crowds), when the tides change, clip coupons for nice restaurants, or see the entertainment appearing at some of the beach bars.
Fortunately, in this little part of Paradise, news on the barrier islands is well-covered by The Barrier Island Gazette.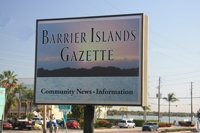 Located at 118 107th Avenue on Treasure Island, publisher Bill Edwards and editor Bill Stone put out a colorful, informative newspaper with a variety of interesting topics.
This paper comes out twice a month, on the 15th and 30th. There are over 30,000 copies distributed at different outlets from Clearwater Beach down to Pass-A-Grille Beach.
I usually pick up mine right at the office on 107th Avenue, but you can also find them at the various community libraries along the barrier islands.


Location: 118 107th Avenue - Treasure Island FL 33706
Phone: 727-360-7315
E-mail: jnye@barrierislandsgazette.com


Return to Best Florida Beach page from Barrier Island News page.